A hidden gem? The unknown charms of Onbetsu!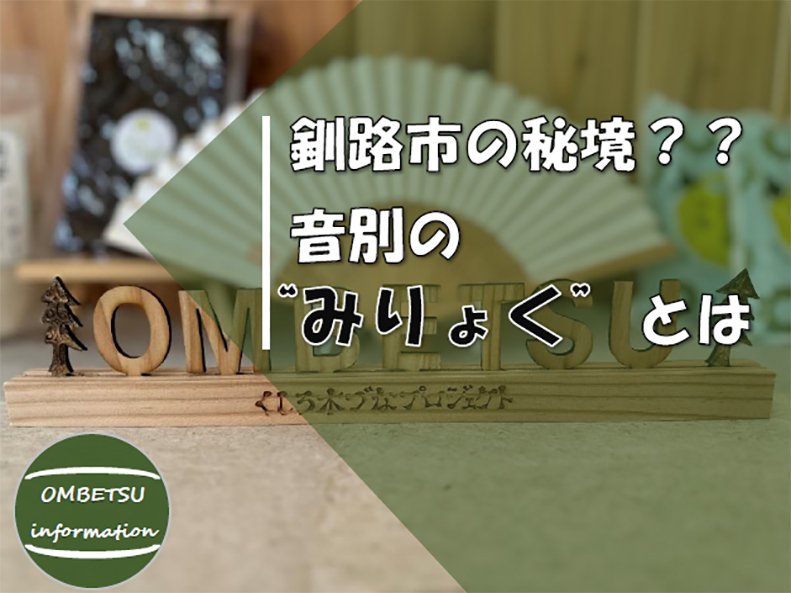 In this issue, we will introduce you to Kushiro City's hidden "Onbetsu Area"!!



What is Onbetsu town?
We often provide information about Kushiro City and Lake Akan on our website, but have you ever heard of Onbetsu town?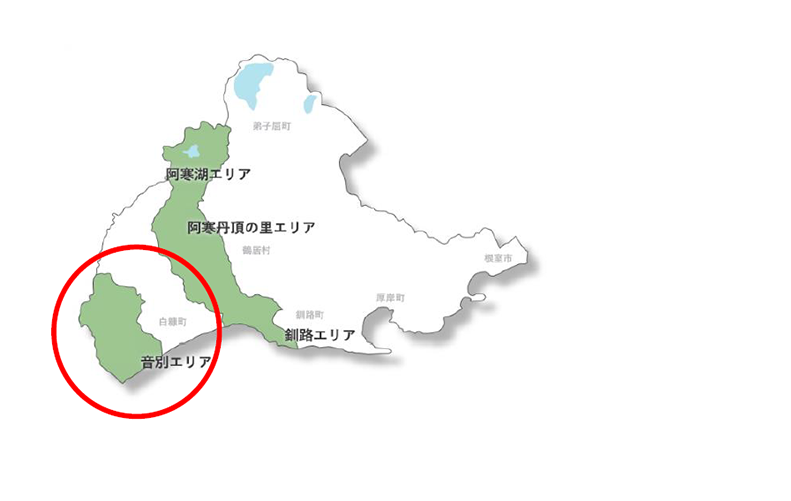 As shown in the map above, Onbetsu town (Onbetsu-cho) is located across from Shiranuka-cho. Although it used to be an independent town, it was merged together with Kushiro City and Akan Town in 2005 to form the current Kushiro City.
It is a small area with a population of approximately 1,500, and can be reached by car in about one hour from Kushiro City!
The name "Onbetsu" comes from the Ainu language. There are various theories about its origin, with the most popular one being that it comes from "Om Petu (river mouth, blockage, or river)".
Its rich natural environment attracts people from all over Japan to fish and take picture of its trains.




Speaking of specialties from other regions…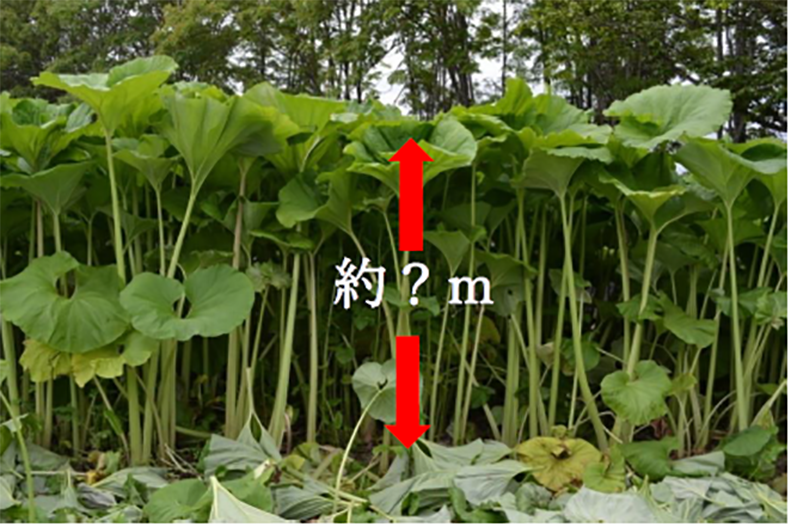 Do you know how big this butterbur is??

Onbetsu butterbur grows in the clean water and cool climate of the Onbetsu River. It grows up to about 2 meters!
It is characterized by its crunchy texture, and a freshness that makes it overflow with water when it is cut.
At the "Venus of the North Butterbur Festival", held every year in mid-June, fresh butterbur is sold at an open market. It is so popular that both locals and out-of-towners line up, snake-like, in search of fresh butterbur!
Onbetsu has long promoted this extra-large butterbur as its local specialty!

However, since the season for fresh butterbur is limited to about one month from the end of May to mid-June, our factory in the Onbetsu area is selling packs of boiled butterbur all year round!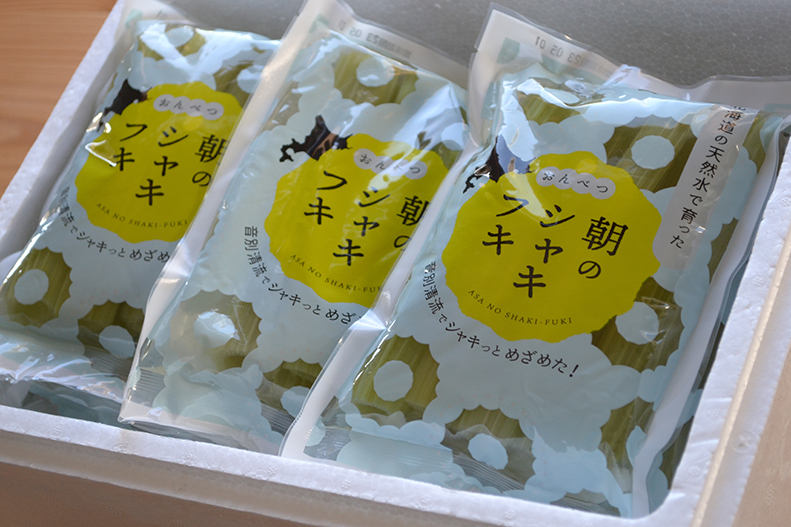 What's more, while studying ways to make use of the peels removed during the processing of butterbur, we analyzed its components and found that butterbur peels contain high-quality pulp that can be used to make paper. As a result, we have developed the "Fuki Paper", which is made using butterbur peels. We are currently putting a lot of effort into marketing it as a specialty product.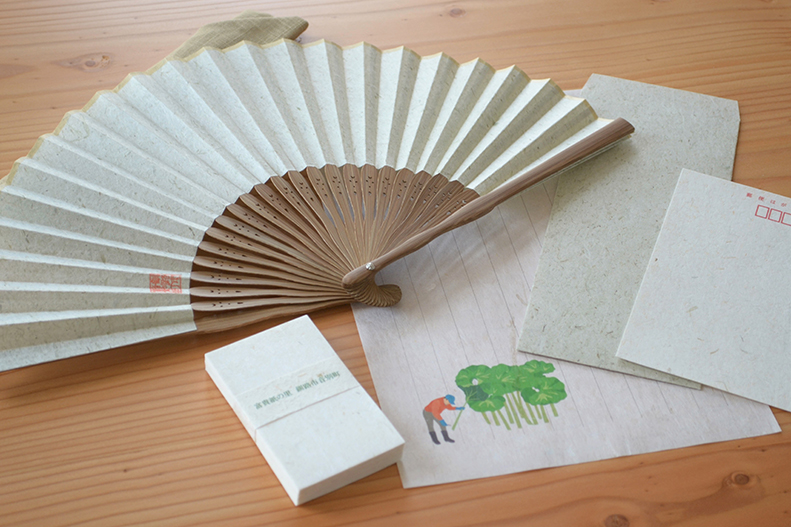 Sheets of "Fuki Paper", which said to be the only Japanese paper ("washi") in Hokkaido, are individually handmade by artisans. They have a soothing texture, with butterbur fibers periodically appearing on their surface.
Fuki Paper is not only used as base paper, but can also be used to make various other paper products such as fans, letter paper and business cards.




Route 38 Onbetsukan, On-Port is now Open!!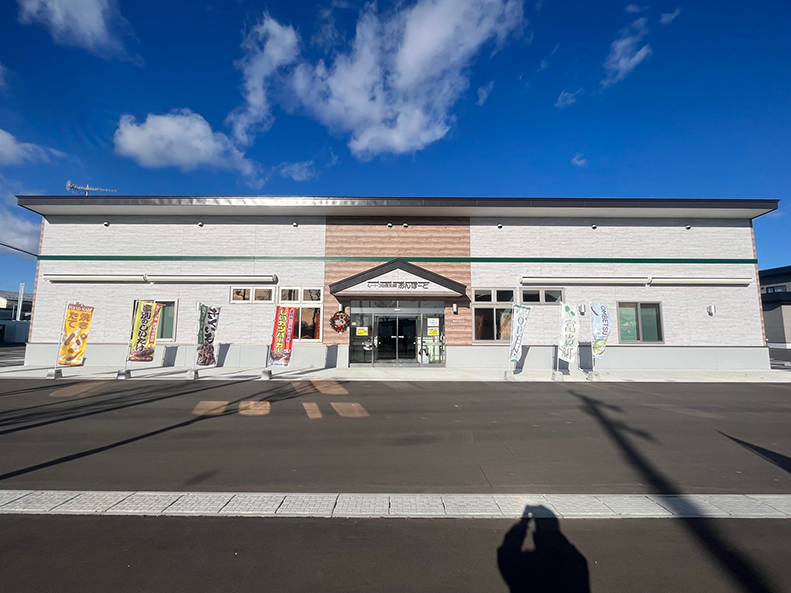 Until now, there was no single establishment where visitors could purchase all of Onbetsu's specialty products. It was necessary to go buy fresh butterbur directly from the farmers, or to go to a store in Kushiro City to buy Fuki Paper…
However, in April 2022, a new facility opened in Kushiro where visitors can purchase, not just the butterbur and Fuki Paper that we have talked about so far, but also various other local specialty products such as chrysanthemums and shiitake mushrooms!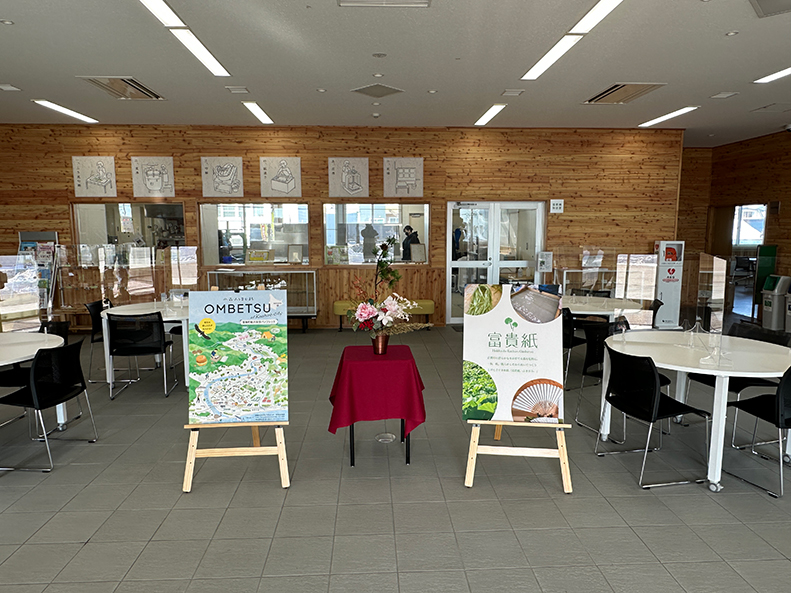 The facility is called "Route 38 Onbetsukan On-Port". It has a sales area where visitors can purchase local specialty products. Since it is also a manufacturing location for Fuki Paper, visitors can try their hand at making it themselves (reservations required)!
As it is also the location for various financial institutions and for the local Chamber of Commerce and Industry, On-Port is visited by a wide variety of people, from local residents to tourists.




Our recommendations include…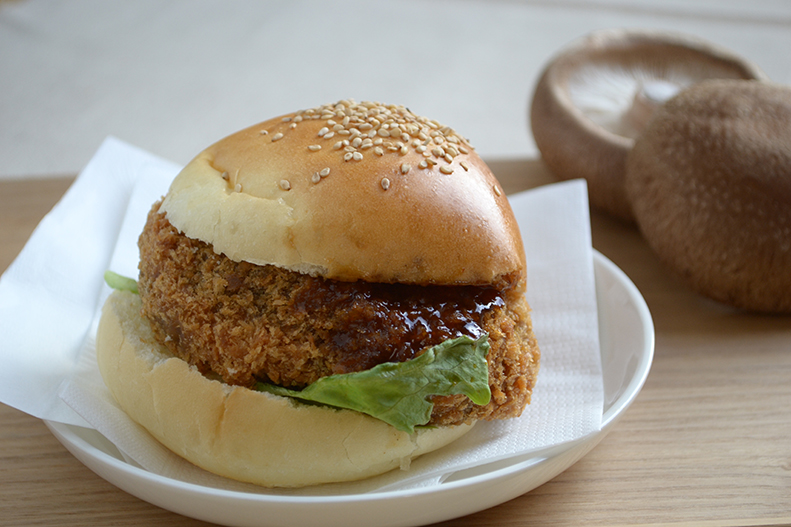 Among the many specialty products on sale, we recommend the "Shi Katsu Burger"!
The Shi Katsu Burger is a hamburger made with thick shiitake mushrooms. It won a gold medal at the Shiitake Mushroom Fair, and is so popular that it sold right after its opening!
Try it when you visit Onbetsu!

So, how was it?
In this issue, we introduced some of Onbetsu's attractions.
For real-time information about Onbetsu, please visit the Onbetsu-cho Administration Center's Facebook Page!
We look forward to seeing you in Onbetsu-cho!

<Click here for the Otonbetsu Administrative Center Facebook page.↓↓>
https://www.facebook.com/ombetsu
<Click here for information about On-Port.↓↓>
https://twitter.com/onpo_to
<Onbetsu-cho Pamphlet>
https://ja.kushiro-lakeakan.com/kushiroakanwp/wp-content/uploads/1037fb37f5e90122ce8f4b7e413d1eae-1.pdf