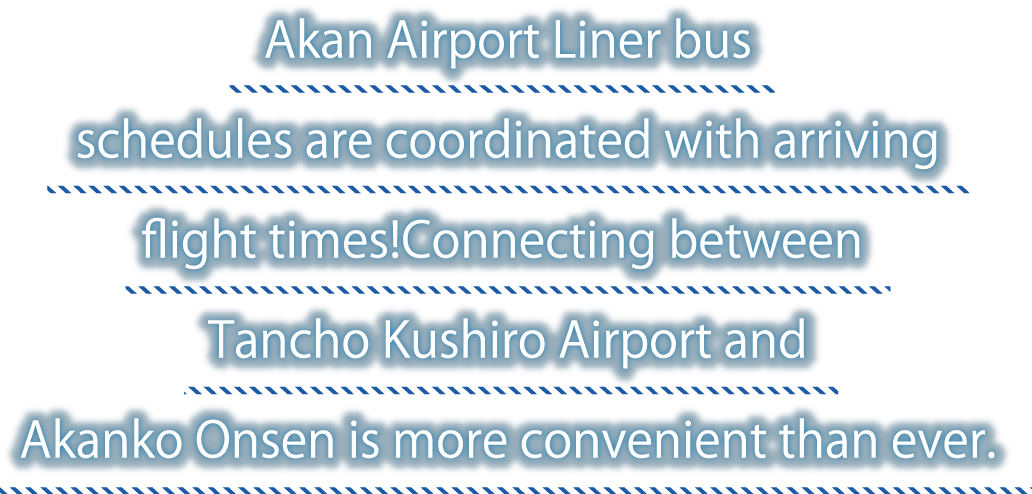 Service period
April 1, 2023-March 31, 2024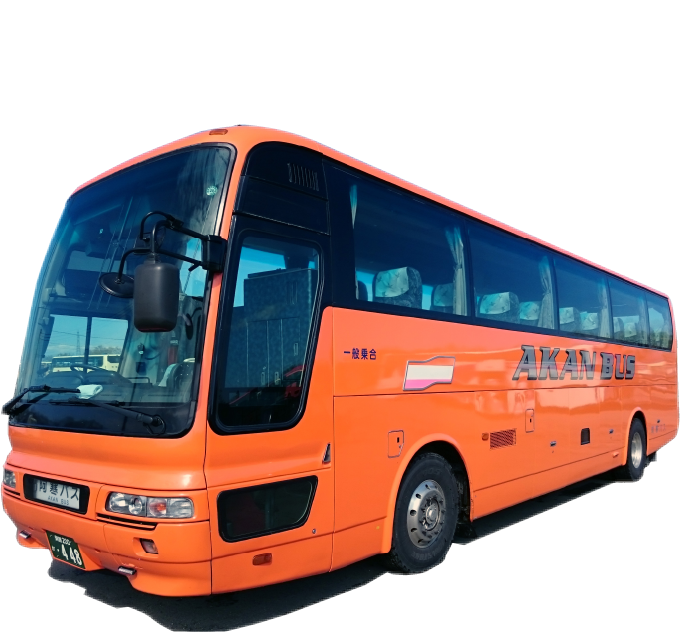 "Akanko Onsen - Kushiro Airport
Use Akan Airport Liner for a
comfortable, convenient photo tour of
Lake Akan and eastern Hokkaido"
Ezo sika deer majestically roam across fields of grass, as delightful flowers bloom throughout the Kushiro Wetlands.
As the sun peeks over the horizon, painting the Pacific Ocean deep red, virgin forests come to life.
Magnificent seas of clouds spread across Lake Kussharo, while Lake Mashu is veiled in wondrous mists. The sunrise at Lake Akan is reminiscent of 'Diamond Mt. Fuji', when the sun crests Mt. Fuji at sunrise or sunset, appearing like a shining diamond in its crown. Ice floes on the Sea of Okhotsk portray the power of nature.
These are Eastern Hokkaido's most photogenic spots.
Embark on a journey to enjoy the picturesque wildlife together with the culture of Kushiro and Lake Akan.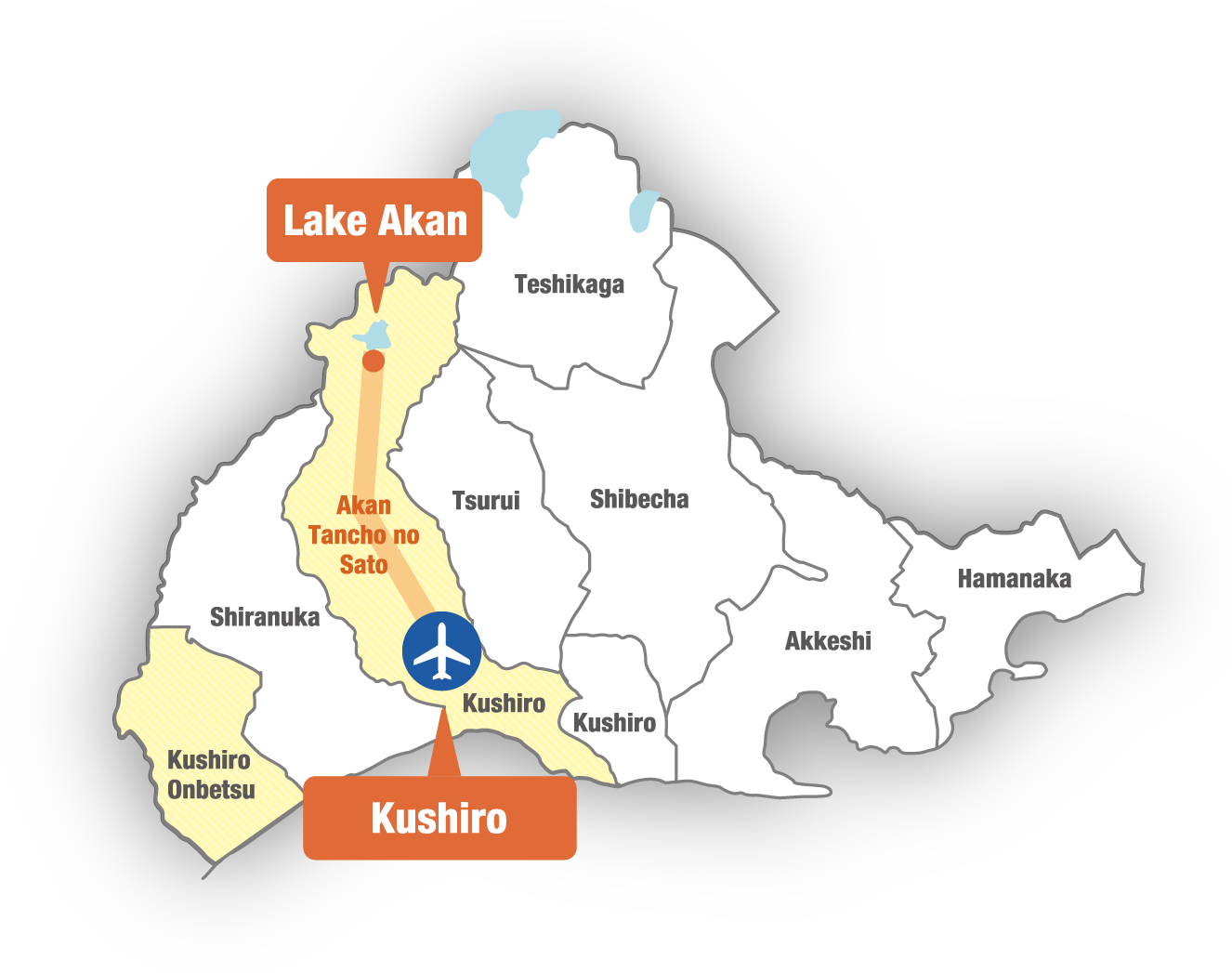 From Lake Akan, use Japan Rail and buses to tour the region's most photogenic spots.
Service period
April 1, 2023 - March 31, 2024
See Opposite Route
Arrival flight

・ANA 48718:25

・JAL 28618:25

・ADO 71/
ANA 47719:20

・JAL 5419:25

・JAL 286311:50

・MM 12512:50

・ANA 74112:45

・JAL 286513:40

・ANA 487314:05

・JAL 54314:35

・ANA 487516:40

・JAL 286917:30

・ADO 73/
ANA 477317:55

Bus Name
AirportLiner 1
Route Bus 103
Route Bus 105*
Route Bus 107
Route Bus 109
Kushiro Station
10:10
12:00
14:50
17:15

Kushiro Airport

10:00
10:57
12:47
15:37
18:02
Akan Tancho-no-Sato
10:17
11:22
13:22
16:02
18:27
Oakan Bunki
(La Vista Akangawa)
10:52
11:58
13:58
16:38
19:03
Akanko Bus Center
11:15
12:10
14:10
16:50
19:15
Bus Name
Route Bus 102
Route Bus 104
AirportLiner 2
Route Bus 106*
Route Bus 108
Akanko Bus Center
※9:45
11:50
Akanko Onsen Hotels
※9:55

〜

11:56

〜

Akanko Bus Center
7:30
10:20
↓
12:30
16:00
Oakan Bunki
(La Vista Akangawa)
7:36
10:26
12:10
12:26
16:06
Akan Tancho-no-Sato
8:13
11:03
12:45
13:13
16:43

Kushiro Airport

8:40
11:30
13:10
13:55
17:10
Kushiro Station
9:30
12:20
14:45
18:00
Arrival flight

・ANA 48729:00

・JAL 28608:55

・ADO 72/
ANA 47729:55

・JAL 54010:05

・JAL 286212:20

・ANA 74213:25

・ANA 487414:35

・JAL 54215:15

・JAL 286414:10

・MM 12615:35

・ANA 487617:10

・JAL 286818:00

・ADO 74/
ANA 477418:40

・JAL 54420:10
・AirportLiner 3,AirportLiner 4 is closed in March
・As the local route bus does not require prior reservations, please make your way directly to the bus stop on your day of travel.
・Due to seats being limited, when the bus is at full capacity it is not available for boarding. It is recommended you reserve Airport Liner tickets in advance.
・The Airport Liner will stop at every hotel in the Akanko Onsen area. Please make reservations in advance for the "Tancho Kushiro Airport - Akanko Onsen" bus route.
・The first departure of the day is bus 104, departs at 09:45 and will stop at every hotel in the Akanko Onsen area.
・For those who plan to get off for a stop at "Tancho no Sato" when boarding your next bus whether it be an Airport Liner or the local route bus, please show the driver your Airport Liner PDF ticket again for no extra cost. By all means, pay a visit to Tancho no Sato!
・If the airport liner is full please use the next available route bus.
・For those wanting to from board and disembark from stops in between, please use the local route bus.
・The * symbol indicates routes only operational between 7/1 - 10/31.
・Please note, during the New Year period (12/31 - 1/3) Route Bus 109 and Route Bus 102 are not in service.
・In the case of a flight arrival time is delayed (up to 20 minutes) the departure of Airport Liner buses 1 and 3 will also be delayed. If the delay of more than 30 minutes please use the next available bus.
・Please understand that buses may run late due to traffic conditions.
・The flight arrival and departure times are based on the April 2023 flight timetable. For the latest information please contact the respective airline.