[Akkeshi Town] Oysters available year round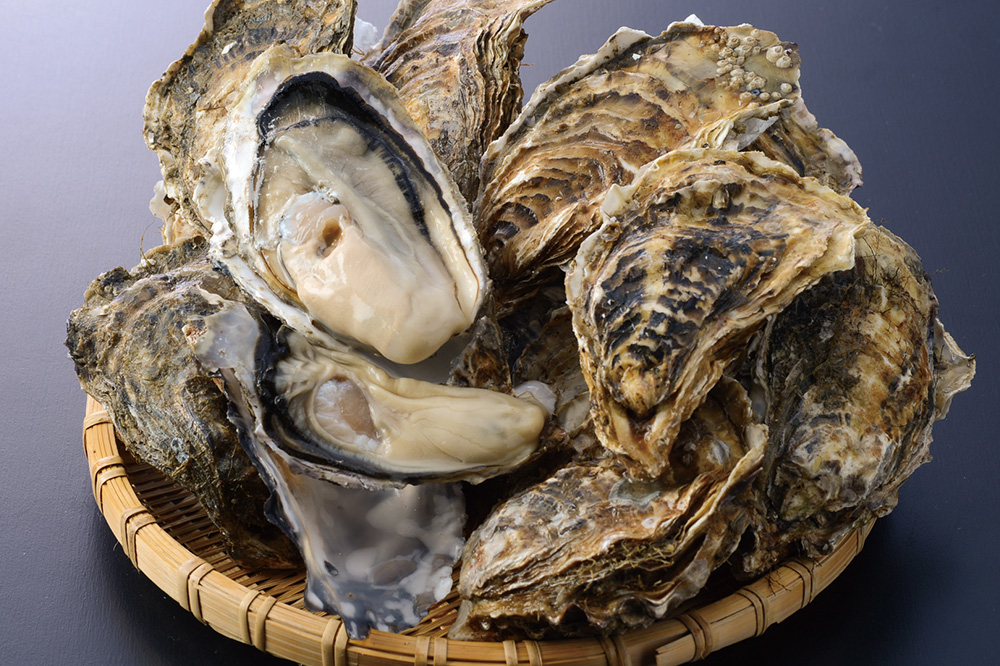 Akkeshi, neighboring Kushiro to the east, is a famed oyster producer. Lake Akkeshi has always been a natural source of oysters; the name even comes from the Ainu word Akkeshi, meaning "oyster place."

However, the once bountiful oysters in Lake Akkeshi nearly went extinct due to overfishing between 1880 and 1900. To combat this, for many long years Akkeshi's oyster production depended on bring in oyster hatchlings from Miyagi, and there has been ongoing research to revive the Akkeshi oyster.

Finally, in 2004, pure Akkeshi oysters made a come-back. In a Japan-first, tank fertilized oyster larvae were raised one by one on ocean beds. These rediscovered Akkeshi oysters are sold under the brand name Kakiemon. Though small-shelled, when opened they overflow with sweet, rich meat. They're so plump and juicy!

In 2016, a new brand of pure Akkeshi oysters appeared: Benten Kaki. Both brands are a little pricy due to limited quantities, but the flavor is undeniable! They're both gourmet favorites.
What's more, since Akkeshi oysters are slowly raised over 3 years in both Lake Akkeshi and Akkeshi port, they're the only Japanese oysters available year round! You can enjoy them in all 4 seasons! In spring they're refreshing and light, in summer mellow and creamy, in fall their sweetness grows and in winter they're rich and sweet.
To try Akkeshi oysters head to Akkeshi Flavor Terminal Conchiglie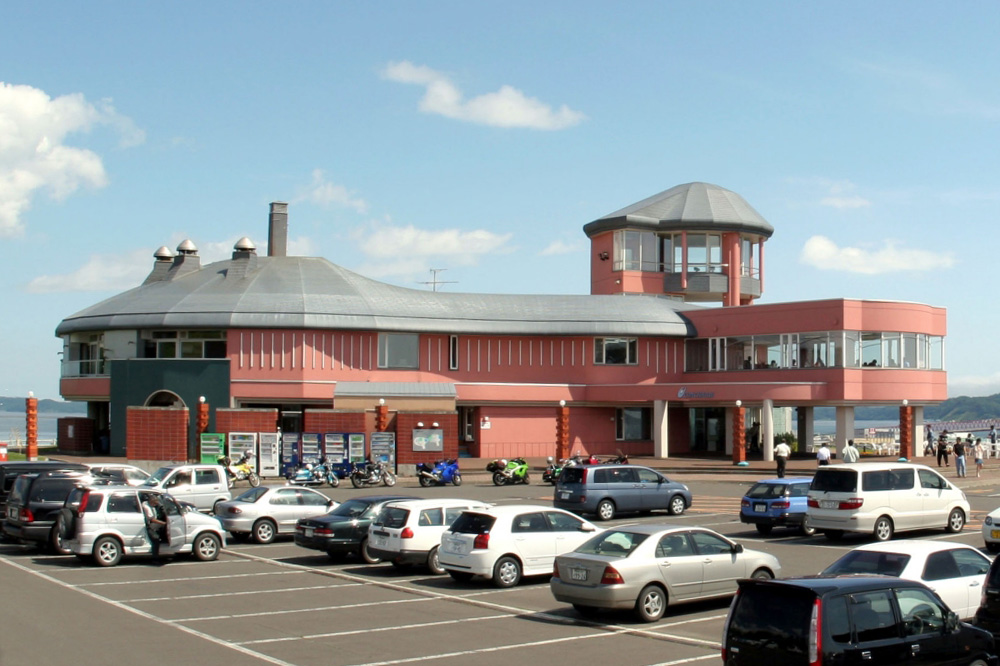 For the best, most exciting Akkeshi oyster experience, get to Akkeshi Flavor Terminal Conchiglie, at Akkeshi Gourmet Park Michi no Eki on Highway 44. Restaurant Escal on the 2nd floor has a wide range of oyster dishes. One popular dish is Oyster Pork Battle Bowl, a pork rice bowl with fried oysters.

Sharing the 2nd floor, Sumibiyaki Aburiya lets you roast your own oysters on the shell, so you can enjoy everything from the rich smell to succulent juices at their indoor BBQ. Eat all the pure Akkeshi grown Kakiemon or limited Maruemon you want!

If you'd like to take home some Akkeshi oysters, we recommend the Akkeshi Fisheries Association direct sales shop A Uroko. In addition to oysters in the shell, they sell Oysters in Oil, Smoked Oysters, and other processed goods. Also, in front of JR Akkeshi Station you can find Ujiie Waiting Room, est. 1917, where they sell oyster rice Kakimeshi bento, yet another Akkeshi delicacy.

◆How to get from Kushiro to Akkeshi Village
By Train: Take JR Nemuro Honsen (Hanasakisen) toward Nemuro from Kushiro Station to Akkeshi Station (Limited Express about 46 minutes ride, Local about 52 minutes.)
By Bus: Take Kushiro Bus Kiritappusen) toward Kiritappu Onsen from Kushiro Station Bus Terminal and get off at Akkeshi Station Bus Stop (About 1 hour 6 minutes ride).
Rental Car: Take National Highway 44 from Kushiro toward Nemuro for about 46km.
◆Michi no Eki Akkeshi Gourmet Park Akkeshi Flavor Terminal Conchiglie, Suminoe 2-2, Akkeshi (On National Highway 44) A 10 minute walk from JR Akkeshi Station Tel: 0153-52-4139 Closed Mondays http://www.conchiglie.net/
◆Akkeshi Fisheries Association Direct Sales Shop Minatomachi 5-3, Akkeshi Tel: +81-153-52-0117
◆Ujiie Waiting Room In front of JR Akkeshi Station Tel: +81-153-52-3270

◆For information about Akkeshi Sightseeing:
Akkeshi Tourist Association Tel: +81-153-52-3131
Akkeshi General Tourist Information Office Tel: +81-153-52-4355
Benten Shrine, in the middle of Lake Akkeshi, built on a natural "oyster island"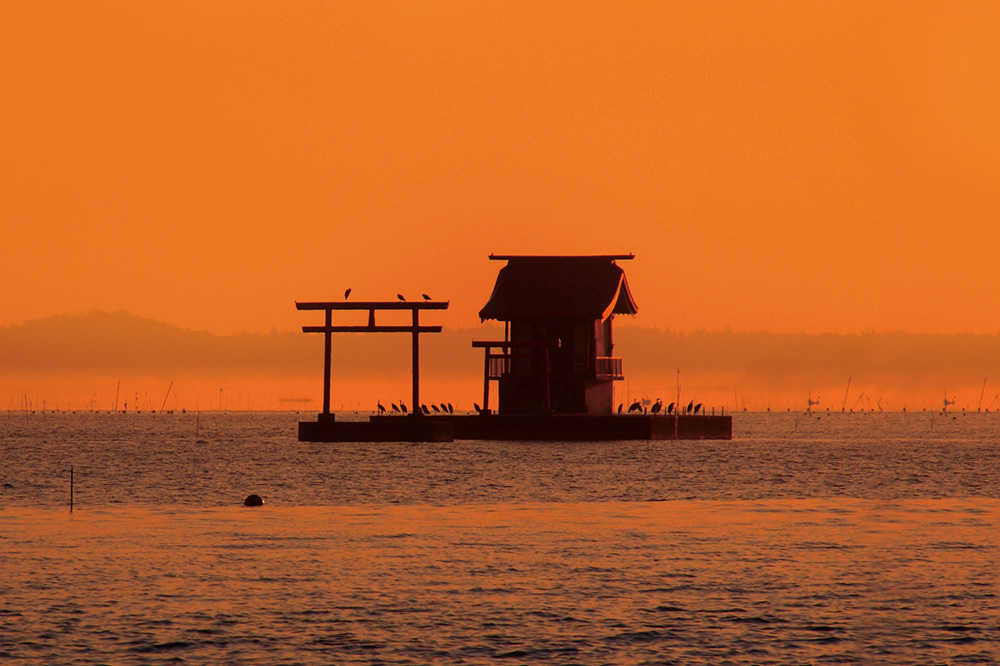 The Akkeshi Ohashi bridge, completed in 1972, connects the north and south shores of Lake Akkeshi, and was Hokkaido's first over-sea bridge. When you cross, you can see a tiny shrine out in Lake Akkeshi. It's called Benten Shrine, and no one knows when it was built. However, records from 1791 report its existence, so it has been watching over Lake Akkeshi for over 220 years.

What's more, Benten Shrine is build on top of a giant mound of oyster shells. It was once much larger, but has shrunk due to erosion.

If you come to Akkeshi, do be sure to look out on this island and shrine and appreciate the blessings brought by this bountiful waterfront.

◆How to get from Kushiro to Akkeshi Village
By Train: Take JR Nemuro Honsen (Hanasakisen) toward Nemuro from Kushiro Station to Akkeshi Station (Limited Express about 46 minutes ride, Local about 52 minutes.)
By Bus: Take Kushiro Bus Kiritappusen) toward Kiritappu Onsen from Kushiro Station Bus Terminal and get off at Akkeshi Station Bus Stop (About 1 hour 6 minutes ride).
Rental Car: Take National Highway 44 from Kushiro toward Nemuro for about 46km.

◆For information about Akkeshi Sightseeing:
Akkeshi Tourist Association Tel: +81-153-52-3131
Akkeshi General Tourist Information Office Tel: +81-153-52-4355
At Akkeshi's special events like the Oyster Festival, eat oysters till you drop
Akkeshi has events all year around! And since Akkeshi oysters can also be enjoyed year round, they show up at every one. But some events are more oyster-focused than others.

In the last half of May, the 9-day-long Akkeshi Sakura and Oyster Festival is held in Nenohi Park, where you can sit under the cherry blossoms and enjoy charcoal grilled seafood in Japan's last Hanami of the year. Also stop by Kokutaiji Temple, also famous for cherry trees.
From late June to early July, the 100 ha flower meadow Ayame ga Hara hosts the Akkeshi Ayame Matsuri, where you can enjoy the sea breeze over a purple field of Arctic Irises.

And you mustn't miss Nenohi Park's 10-day Akkeshi Oyster Matsuri from the beginning of October. It's full of Akkeshi flavor, from grilled oysters to oyster ramen to oyster rice.

In mid-February, for one day only Akkeshi Flavor Terminal Conchiglie at Akkeshi Gourmet Park Michi no Eki has the Kaki de Gozaru event, where fishermen display their best winter oysters for sale.

◆Flower Field Ayame ga Hara Suehiro 321, Akkeshicho Take Kushiro Bus (Kiritappusen) from JR Akkeshi Station to Ayame ga Hara bust stop (about 25 minutes ride).
◆Kokutaiji Wangetsu 1chome, Akkeshicho From JR Akkeshi Station, take Kushiro Bus (Kiritappusen) to Kokutaiji bust stop (about 7 minutes ride).
◆Nenohi Park, Ponto 6 chome, 9, Akkeshicho Take Kushiro Bus (Kiritappusen) from JR Akkeshi Station to Nenohi Park bust stop (about 20 minutes ride).
◆Michi no Eki Akkeshi Gourmet Park Akkeshi Flavor Terminal Conchiglie Suminoe 2 chome, 2, Akkeshicho A 10 minute walk from JR Akkeshi Station.

◆For information about Akkeshi Sightseeing:
Akkeshi Tourist Association Tel: +81-153-52-3131
Akkeshi General Tourist Information Office Tel: +81-153-52-4355