Model Course
Model Course No.01

Akan-Mashu National Park
DAY.1

Kushiro Airport → Lake Akan

SPOT

Akan Mt Hakuto Trekking

LUNCH

Himemasu dish

SPOT

Akan Ainu Kotan (Ainu Village)

STAY

Stay Lake Akan Onsen
DAY.2

SPOT

Lake Mashu

SPOT

Mt Io

ACTIVITY

Soar through the Stars above Lake Mashu

STAY

Stay Kawayu Onsen
DAY.3

ACTIVITY

Mashu Kussharo 'Unkai' (Sea of Clouds) Tour

SPOT

Kushiro River Canoeing
*Since some buses only run during certain seasons, you may not be able to move as scheduled depending on the season. In addition, please refer to the bus schedule as a guide.
Day.1 START
Akan Airport Liner
Lake Akan

Akan Mt Hakuto Trekking Superb Views of Lake Akan!

Mt Hakutosan lies south of the Lake Akan onsen (hot spring) district, reaching a peak height of 950 m. From spring to autumn, the Akan Kohan Ski Resort situated here turns into hiking trails for nature lovers, offering points of interest such as wildflower fields and "bokke" mud volcano vents. Heading east from the peak leads to an observation point with a breathtaking view of Mt Oakan-dake and Lake Akan. On summer mornings, you might be so lucky as to experience the "unkai" (sea of clouds) from the mountaintop. The return trip takes about two hours.

More Details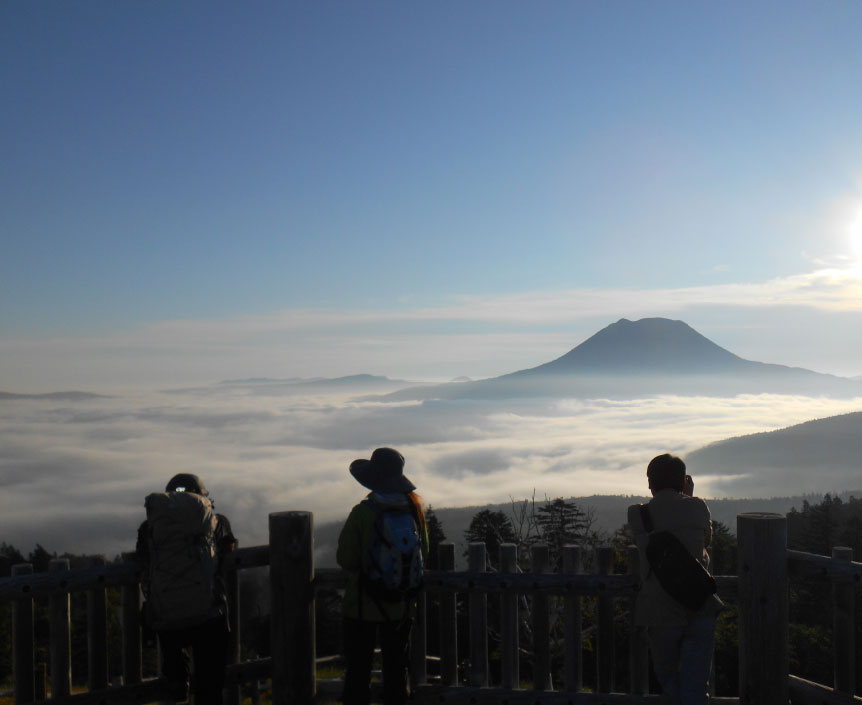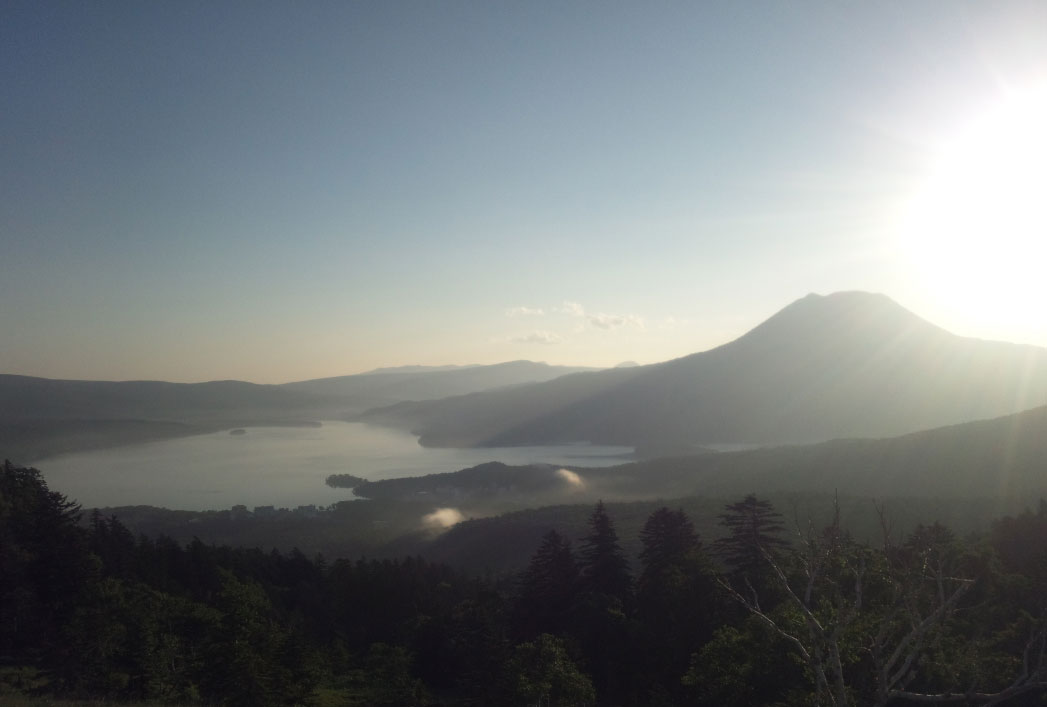 Lake Akan

Himemasu dish Lake Akan is a precious land where you can eat the himemasu of Lake Akan.

The himemasu is delicious fish among salmon, and it is rare fish native to Lake Akan and Lake Chimikepp. The flavor is characterized by strong flavor and rich moisture, and you can enjoy grilled fish or sashimi. It was a long time ago that sockeye salmon running upstream to Lake Akan remained in the lake and evolved to spend their life. Even now it is designated as an endangered species and only a certain number is caught every year. All the himemasu caught in Lake Akan are natural. Because freshness falls fast, there is also a menu that offers only a limited period of season from May to July. At the Akan Fishery Cooperative Association, you can purchase "Himemasu Sashimi" for souvenirs.

More Details
Lake Akan

Akan Ainu Kotan (Ainu Village) Experience Ainu culture and cuisine first-hand
at Lake Akan Ainu Kotan Village

At the Ainu Kotan in the Akan-ko Onsen town, there are more than 20 shops that sell handicrafts and souvenirs. Not only can you enjoy the taste of Hokkaido and Ainu cuisine, but also closely experience the culture of the Ainu people in this area.

More Details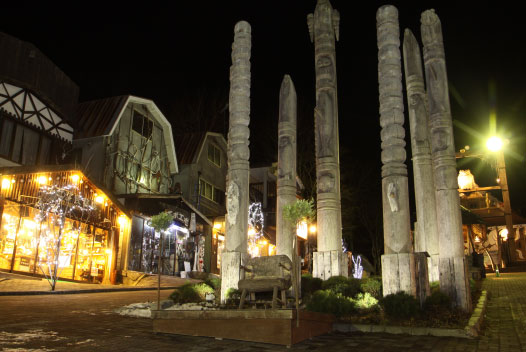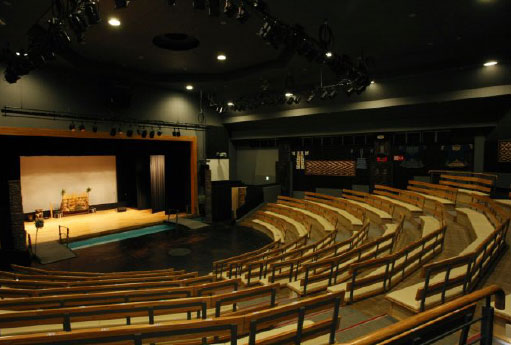 Stay Lake Akan Onsen
Day.2 START
Akan Mashu-Go
Mashu Station
The eco-bus of Teshikaga
*For a limited period, a bus will run during the summer and winter seasons every year
Teshikaga

Lake Mashu An incredible view full of Sapphire Blue!
The moment when Lake Mashū shines most mysteriously"

Having a transparency quality that is second only to the Baykal Lake in Russia, Lake Mashū offers a beautiful blue lake surface, famously called Mashu Blue. Also known for its thick fog. Even though there are no rivers flowing in or out, the lake is fascinating in that its water level always stays constant. This lake is called "Kamui To" in the Ainu language. It means, the "Lake of God."
Just like its meaning, the lake has a mysterious atmosphere.

More Details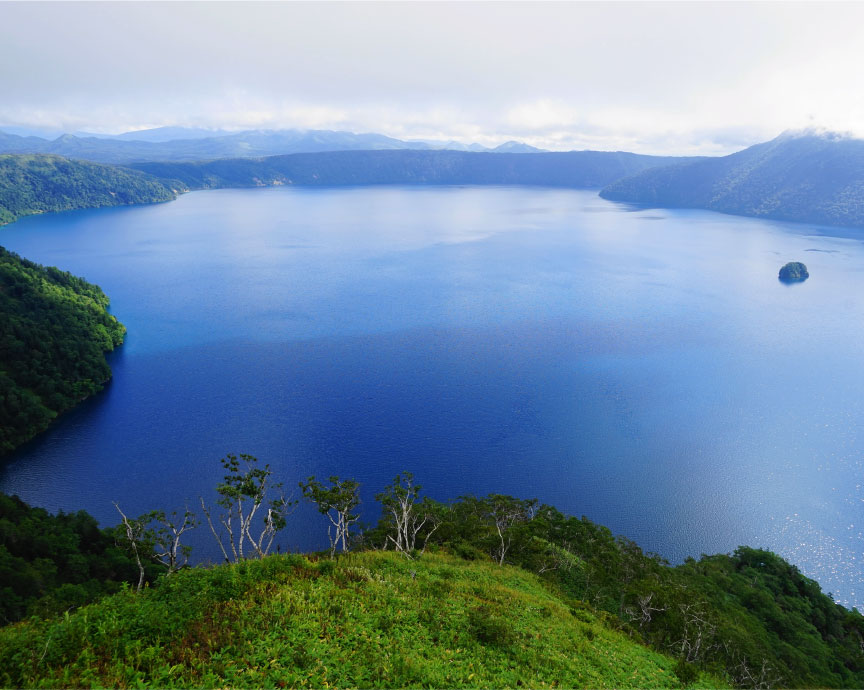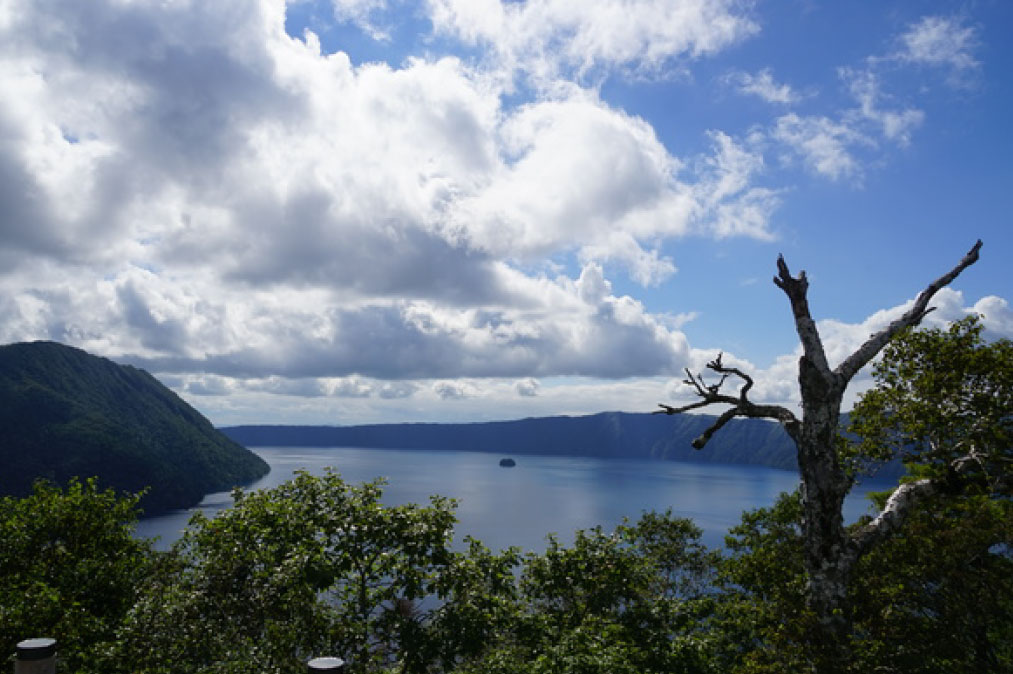 The eco-bus of Teshikaga
*For a limited period, a bus will run during the summer and winter seasons every year
Teshikaga

Mt Io After Lake Mashu, stop by Mt Io

Atosa Nupuri means bare mountain in the Ainu language and refers to Mt. Io.
Even at present this volcano has active eruptions and is located about 3 kilometers from Kawayu hot spring district.

More Details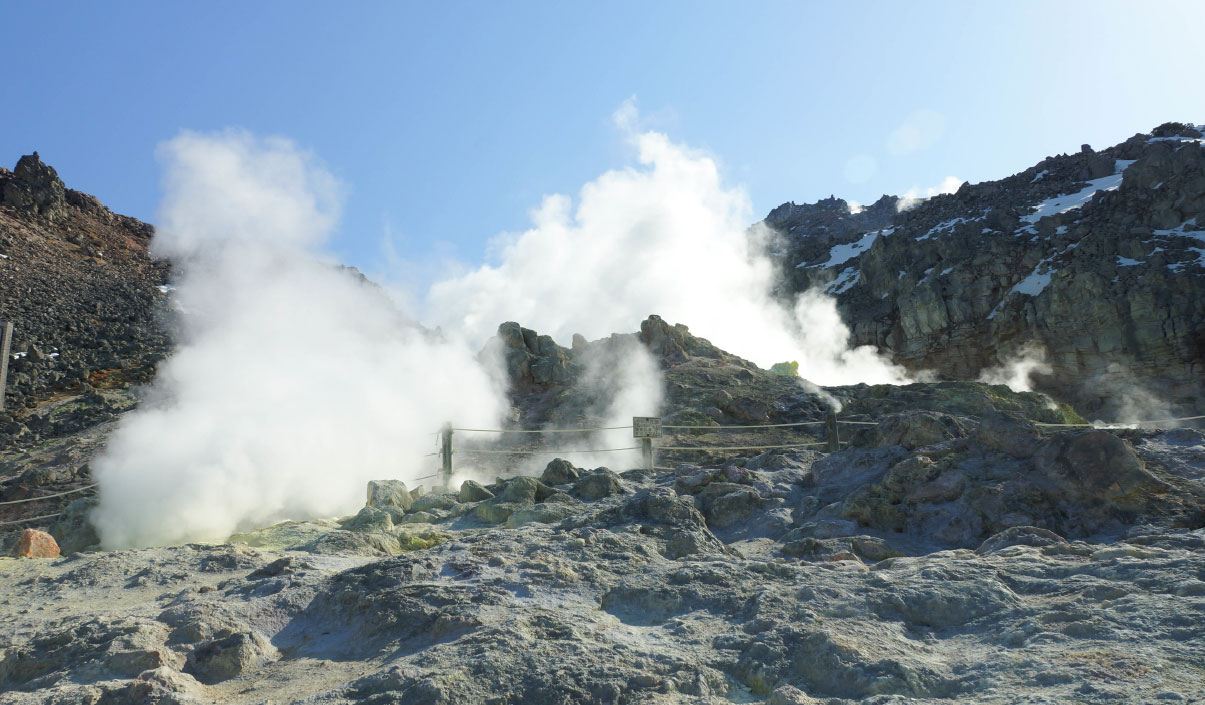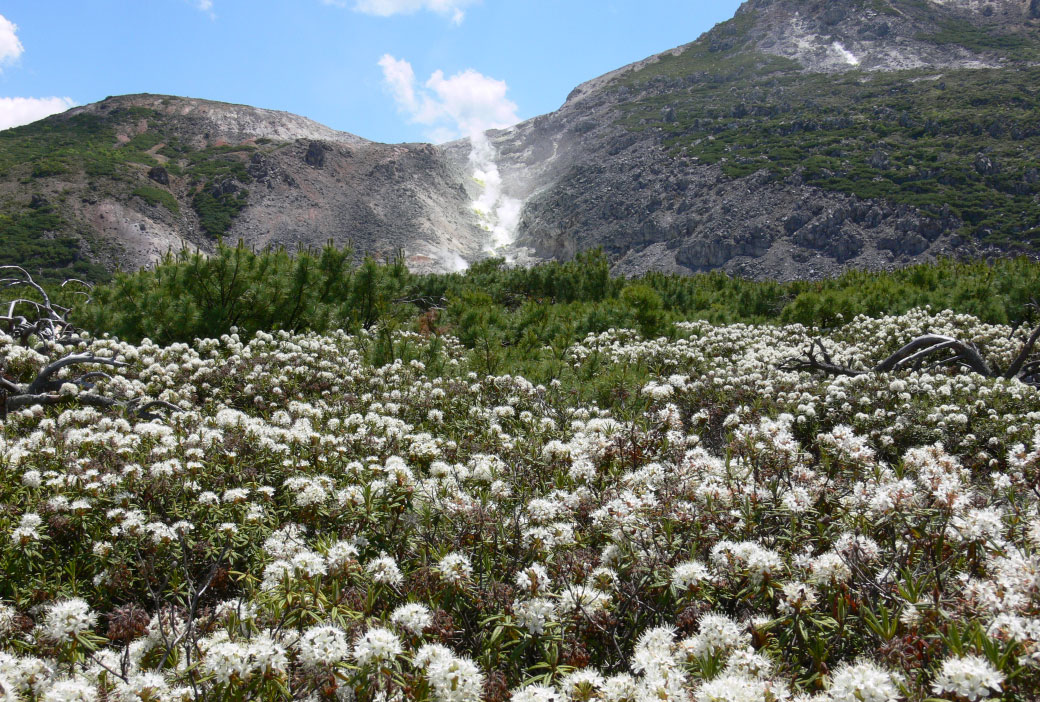 Kawayu Onsen
Soba flour crepe
Cafe restaurant in the middle of hot spring town. The French cuisine "Galette" which is baked by wrapping Mashu vegetables and cheese in Mashu Soba flour crepe is recommended.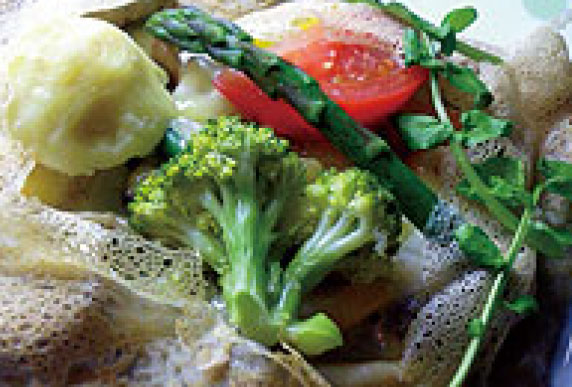 Teshikaga

Soar through the Stars above Lake Mashu Let's go and search for stars!

Lake Mashu is perhaps best known for its striking daytime beauty. But night is just as beautiful, as darkness shrouds the silent lake, creating an ideal stargazing environment.
While located within a National Park, Lake Mashu is designated as a Special Protection Area, and may not be approached by the public.

More Details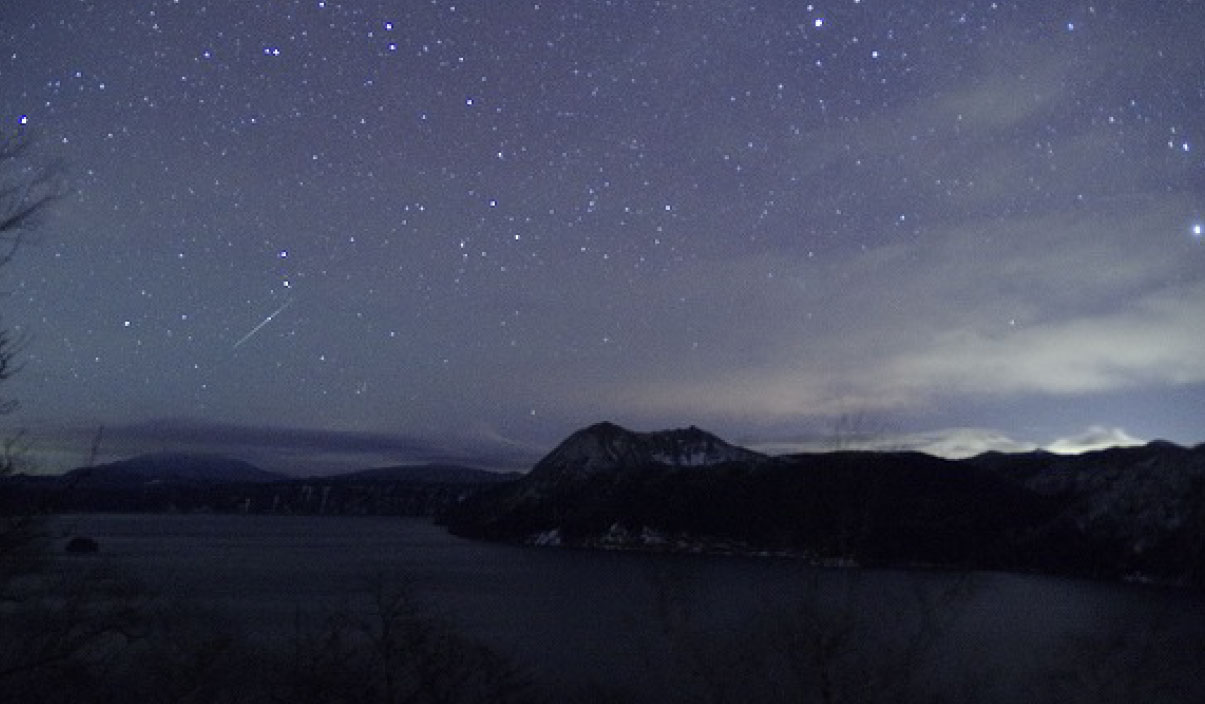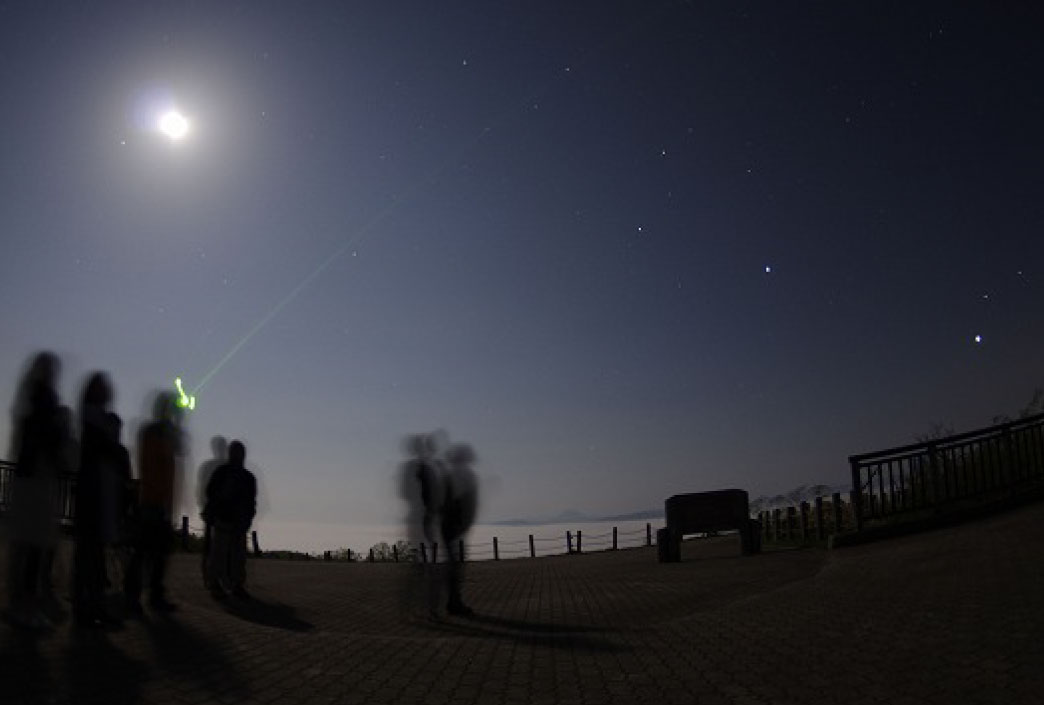 Stay Kawayu Onsen
Day.3 START
Teshikaga

Mashu Kussharo 'Unkai' (Sea of Clouds) Tour An early morning departure in search of the Sea of Clouds!

Elevation 680 meters. Early morning at Lake Mashu No. 3 Observatory.
To the west lies Japan's largest caldera, the Kussharo Caldera.
To the east is the Mashu Caldera, brimming with the deep blue waters of enigmatic Lake Mashu.
Mist fills and overflows these two calderas as the 'unkai' (sea of clouds) flows.
Mashu - Kussharo Unkai tours offer a chance to partake in this rare scene of beauty.

More Details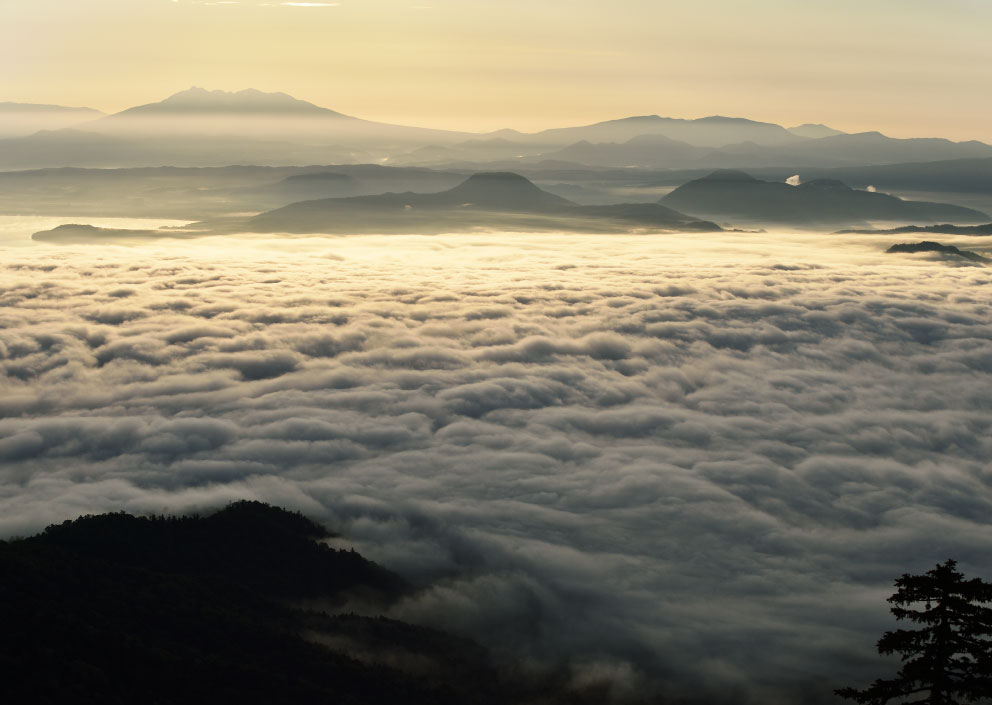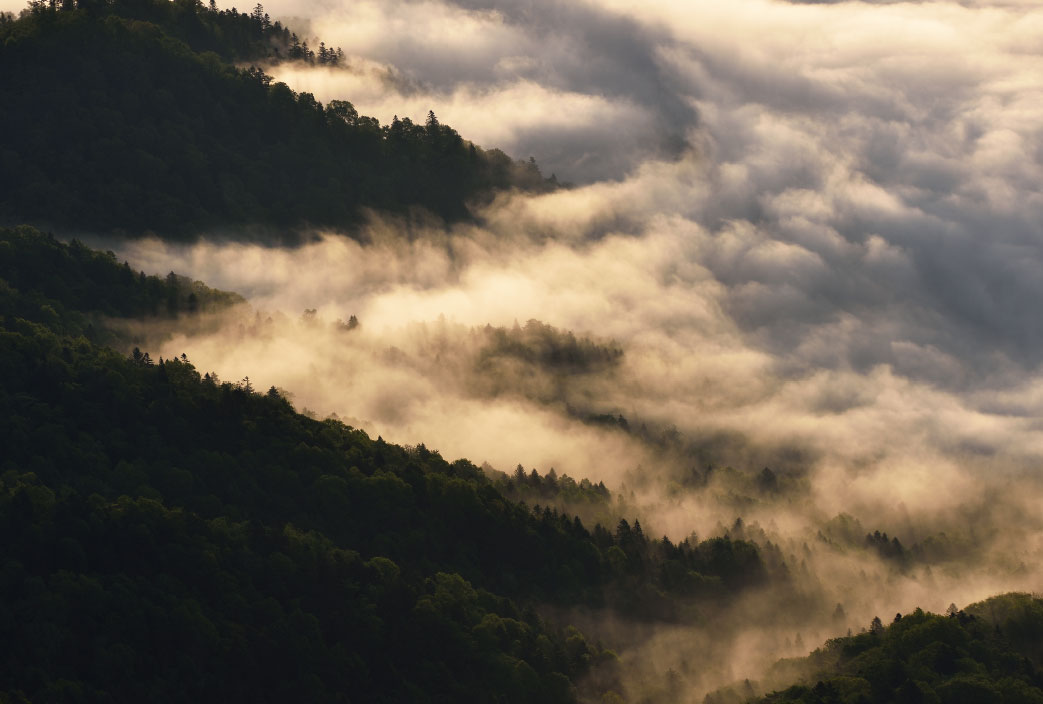 JR
Kushiro Town

Kushiro River Canoeing See the Wetlands from Nature's Point of View

Each season brings new ways to explore and experience the wetlands of Kushiro Shitsugen National Park, from canoeing to horse trekking, to smelt fishing in winter, and more. Of these activities, perhaps the most remarkable experience is canoeing atop Lake Kushiro, the ultimate vantage point to appreciate the magnificent beauty of the wetlands.

More Details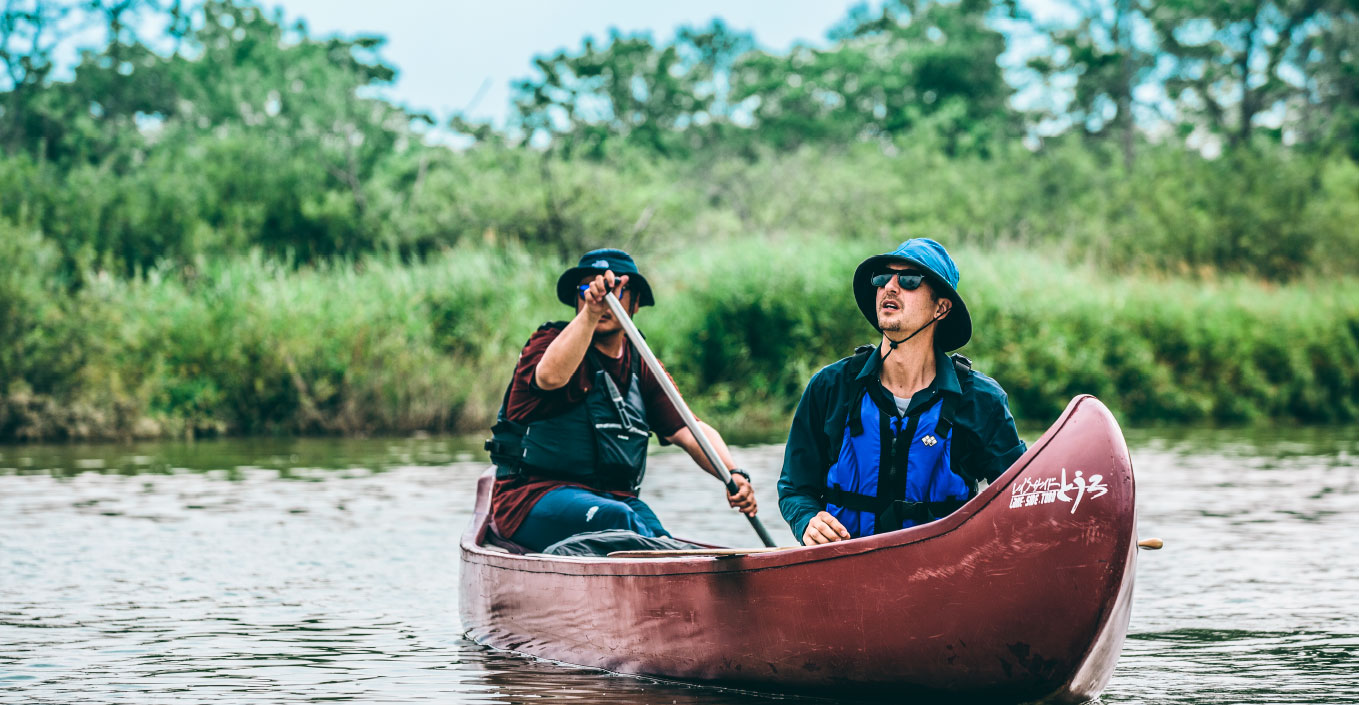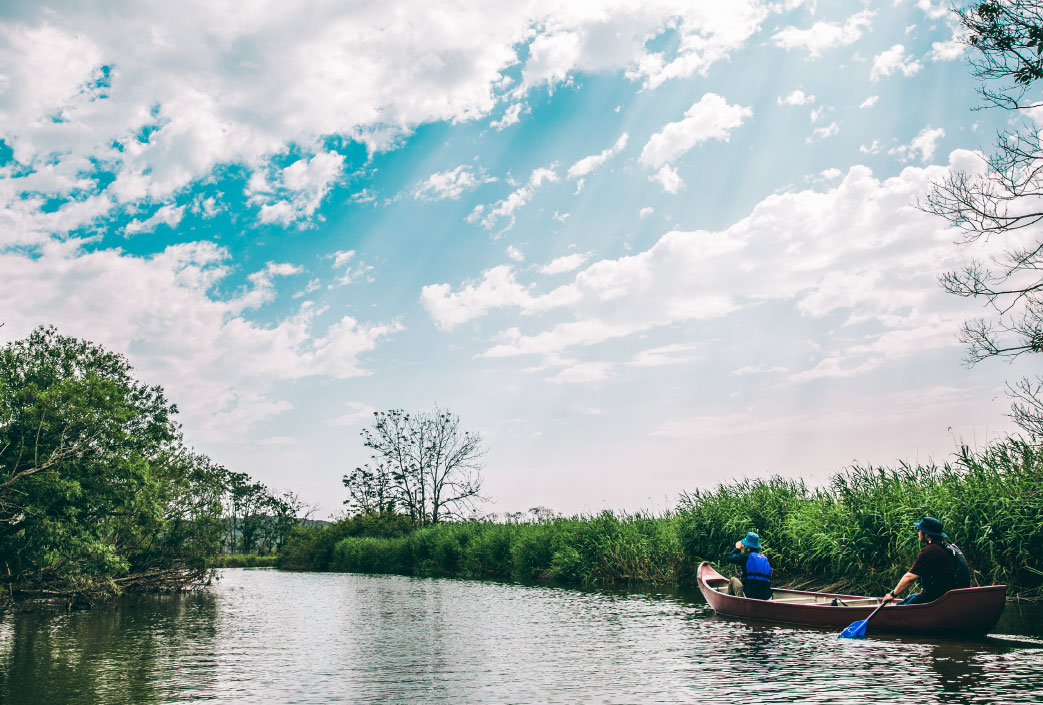 Kushiro Shitsugen Norokko-go (JR Train)
Kushiro Washo Market
Kushiro is known for its 'katte-don', a rice bowl filled with your choice of fresh, seasonal seafood toppings -- a perfect way to experience the port town market.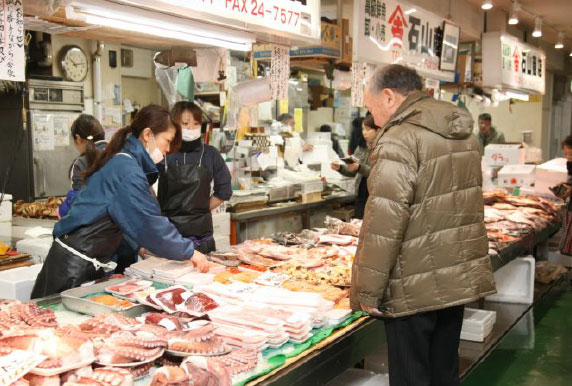 MOO
Nestled in the heart of downtown Kushiro, this sightseeing facility is home to 'Minato no Yatai', a congregation of pubs in street-stall style. The summer-season only 'Ganpeki Robata' (wharfside seafood barbecue) is also very popular!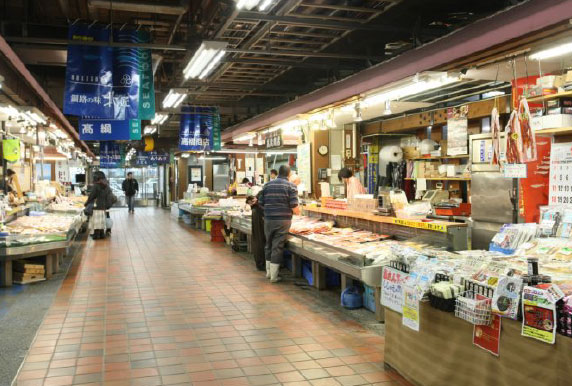 Nusamai Bridge (Sunset)
The number one spot in Kushiro to check out the sunset is Nusamai Bridge, which is considered to be one of the three most picturesque bridges in all of Hokkaido. The sight of the sun melting into the ocean from beyond the silhouette of the four statues of the seasons on the bridge's guardrail is truly stunning.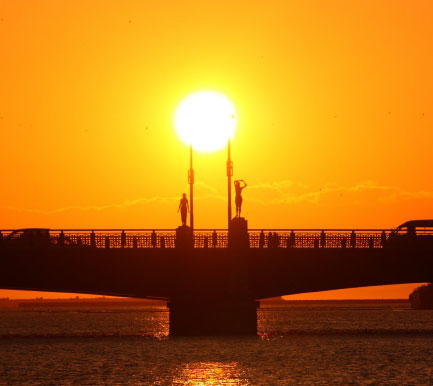 Sunset Cruise
Take in the beauty of Kushiro's sunset and night view from a sightseeing cruise boat! The "Sunset Cruise" departs from near Nusamai Bridge, heading out to sea to best appreciate the magnificent scene of one of the world's top three sunsets. Or enjoy the view of Kushiro at night as the "Night Cruise" roams the mouth of the Kushiro River. Reservations also accepted from the website. The apres-cruise lounge party is also very popular.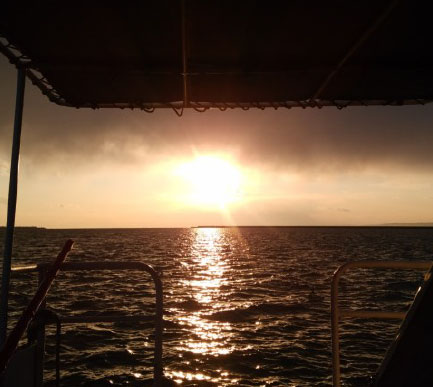 connecting bus
GOAL