Lake Akan, Fly Fishermen's Heaven!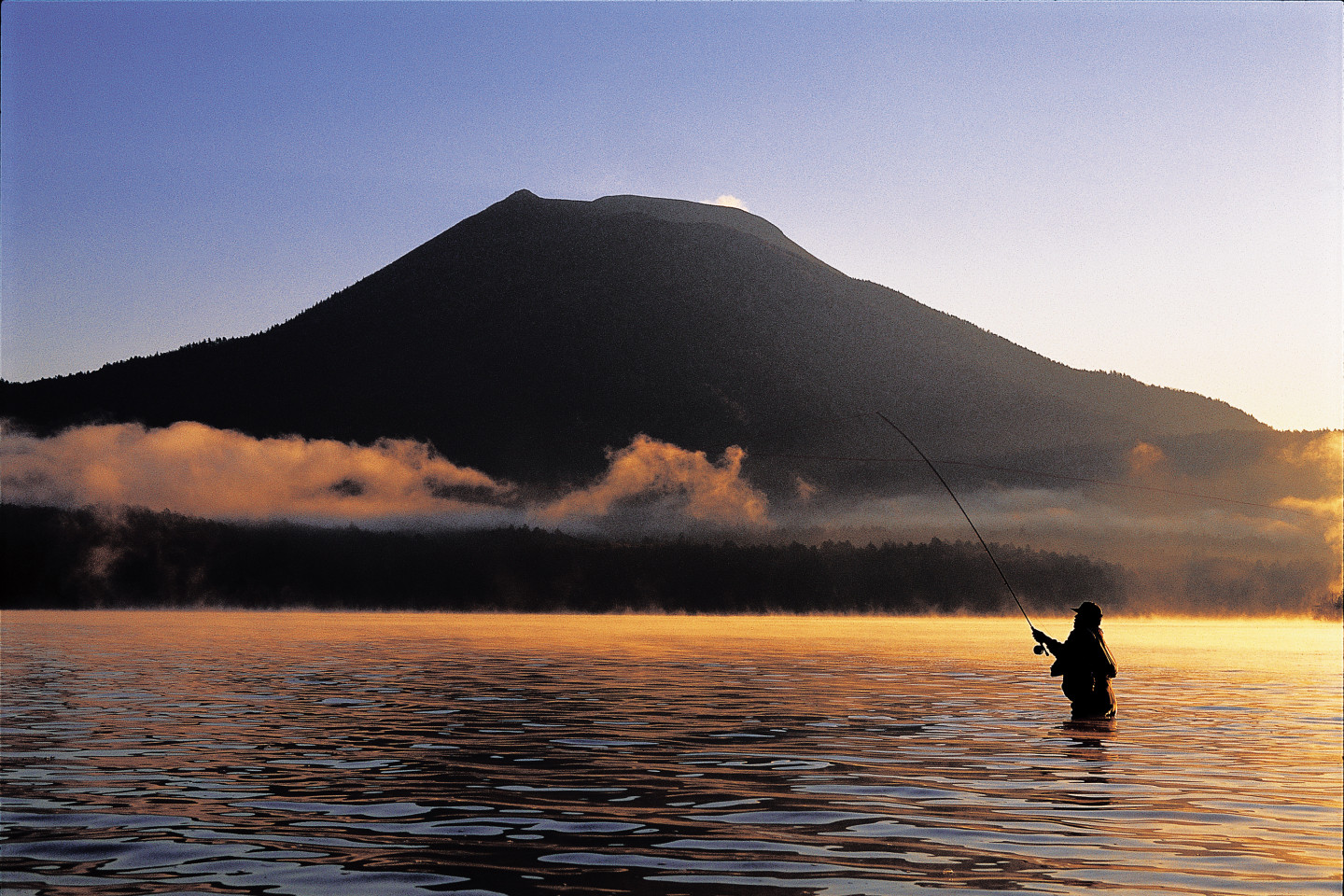 For decades, anglers from all around the world have come to Lake Akan to indulge in fly-casting into a crystal-clear water in the pristine nature, not to mention the thrill of hauling in a fat, shining wild trout. The place has long been renowned as " Angler's Paradise" There's amazing fishing in all season.
Akan, a place of aspiration for trout anglers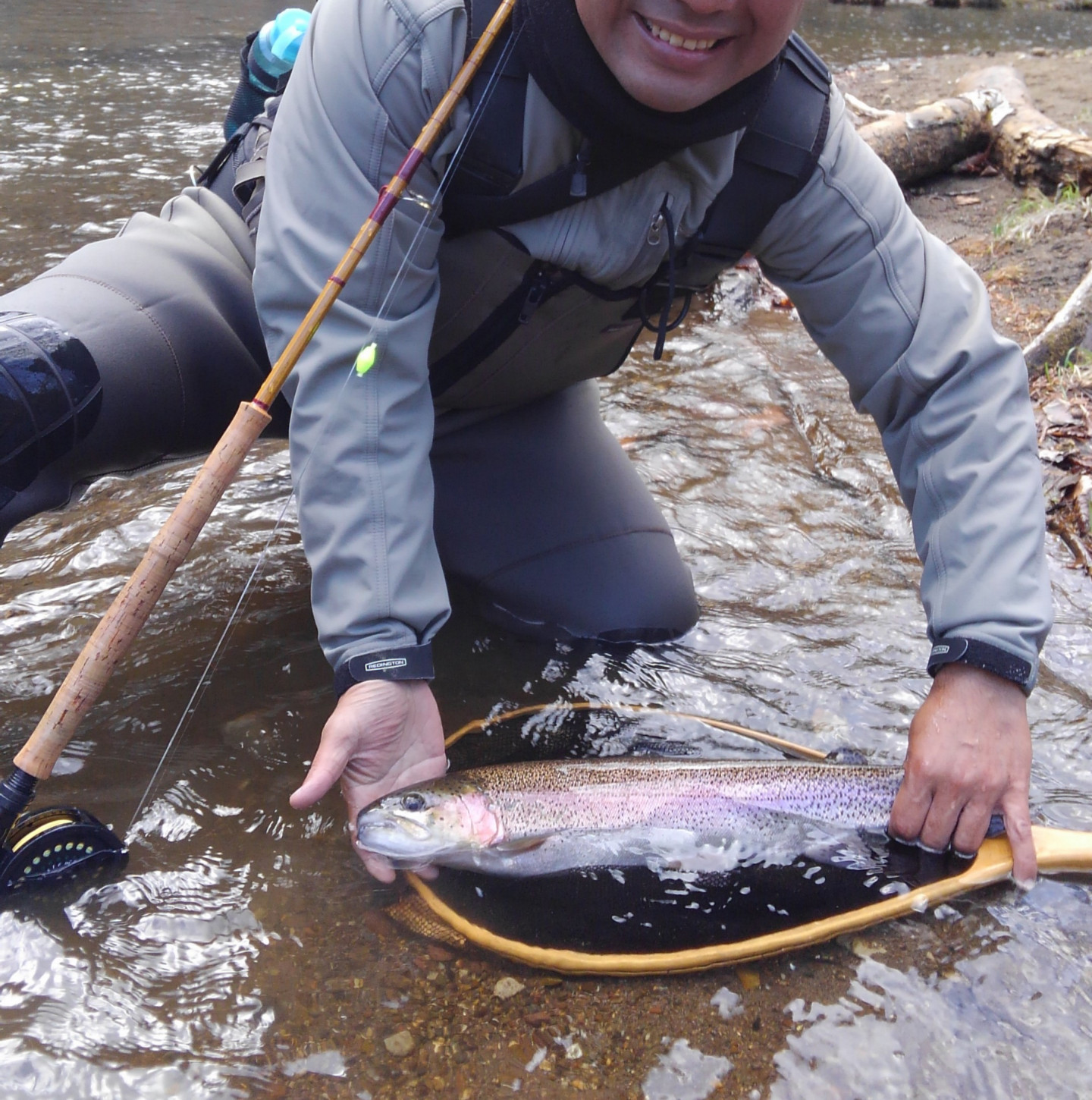 Known as the best trout fishing ground in Japan, Lake Akan has no shortage ; pristine nature, wild animals, fish size, and the abundance of fish. Nature conservation activities by Maeda Ippoen Foundation and the area's designation as a
national park has spared the area environmentally-damaging development and you will not witness any artificial
structure on the lake which is surrounded by the same virgin forests as long ago. Akan's forests are densely
packed with trees, and even in heavy rains, the rivers and lakes do not become muddy. This untouched environment is perfect for both trout and fishing enthusiasts.
Fish type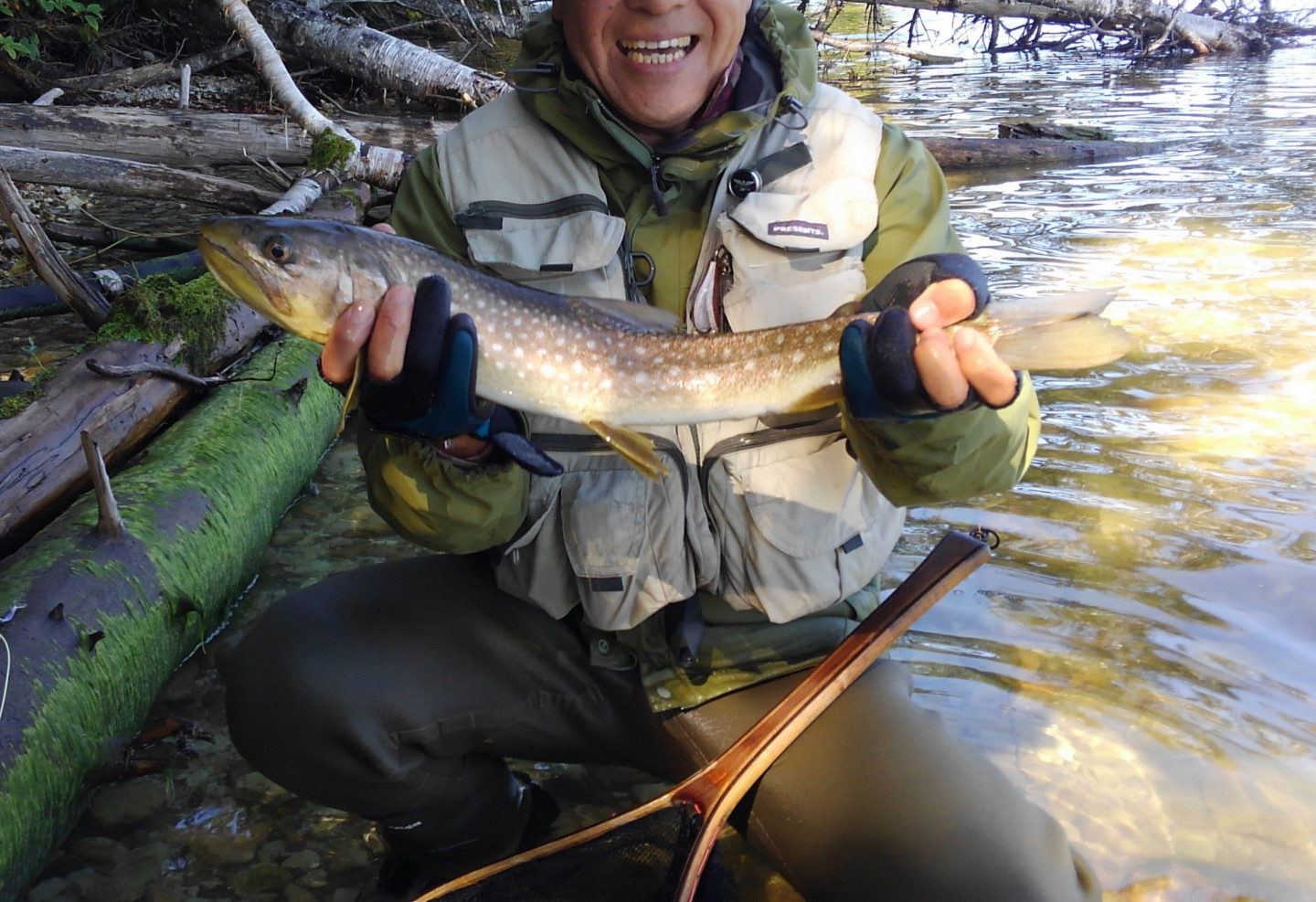 Lake Akan is one of Japan's premier place for fishing.
Main targets are rainbow and white-spotted char all year except winter. The water with rich minerals gushing from the volcanoes creates unusually large fish.
White-spotted char is a native species to Japan whose gold shinning body has always fascinated anglers.
All of Lake Akan is open for fishing, except for a no-fishing area along the north coast. It has countless points
accessible from land and boat fishing will give you even more chances to catch a trophy trout.
Guided Fly Fishing caters for all levels of anglers, from beginners to expert, and provides unpressured fishing.
Fishing season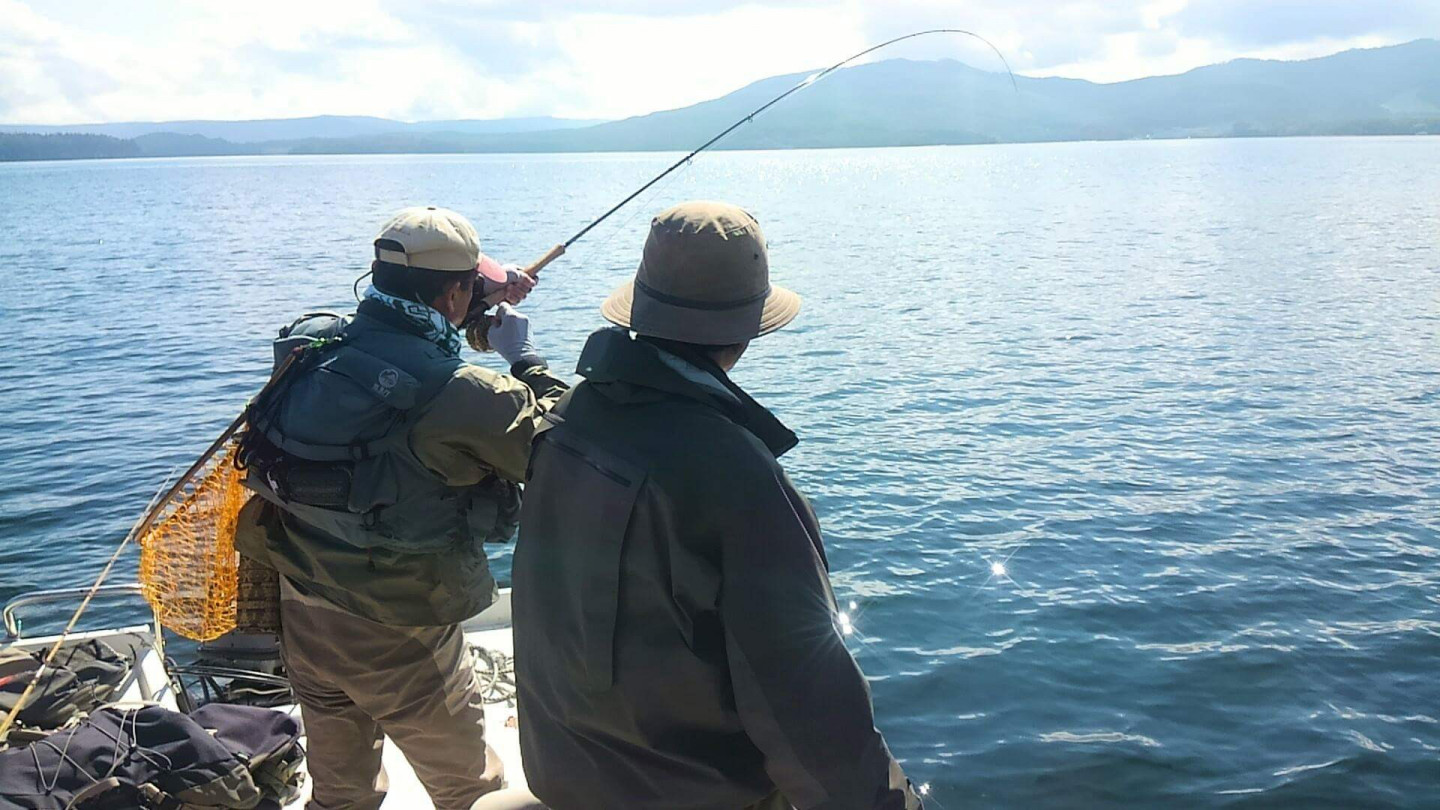 Lake Akan's fishing season begins on May 1st. At this time, long-reach lure fishing takes advantage. Entering the later half of May when midge flies emerge, trout can be seen rising to the surface and fly fishing season begins. Dead or
exhausted lake smelt that rise to the surface are also their important food. June is the best season when mayflies hatch in enormous numbers and attract large trout. In summer (July, August), The water temperature rises and the fish stay
deep. In October, the fish rise again.
"Wakasagi", ice fishing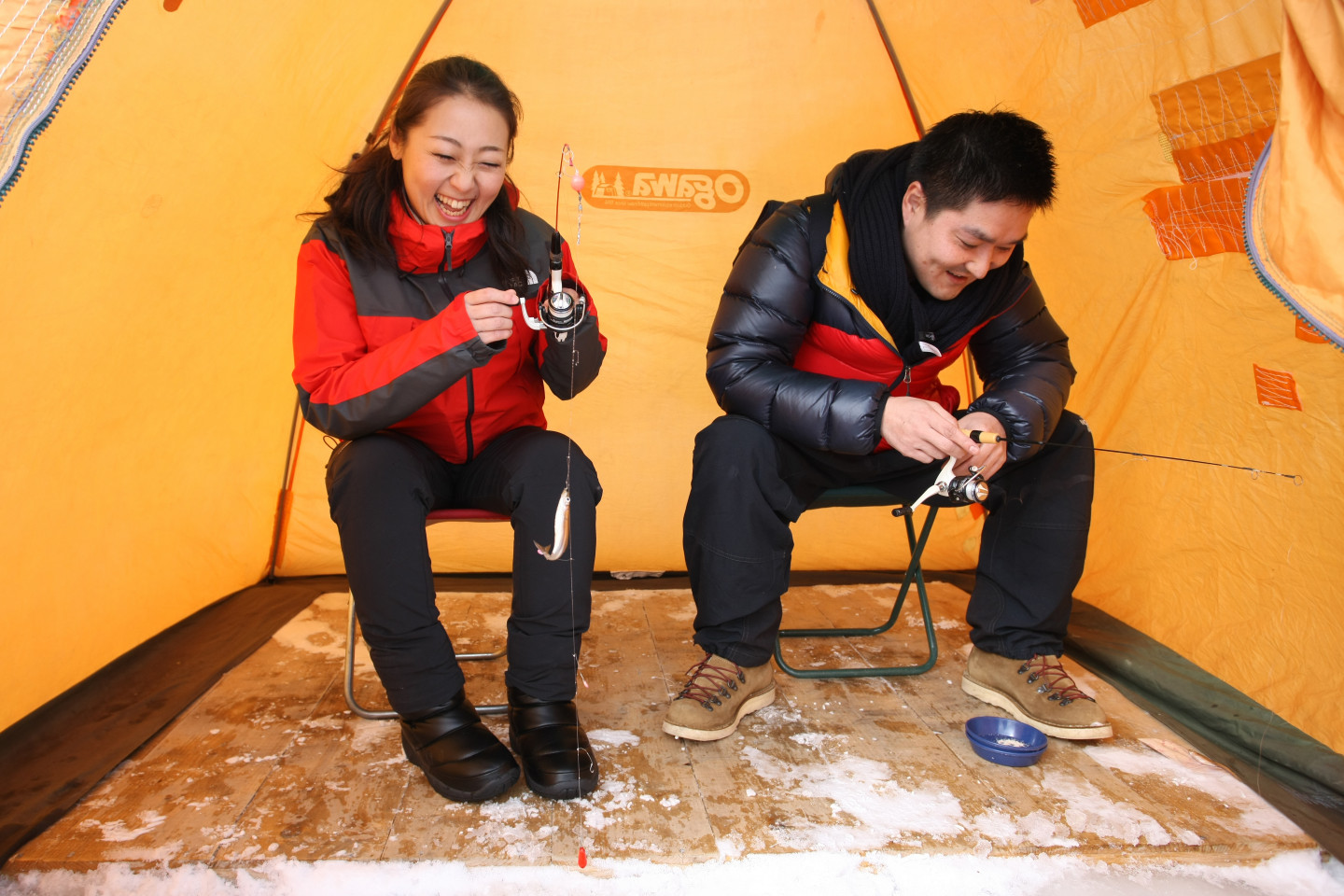 January, Lake Akan freezes and the season, many fishermen have long waited, begins. Lots of colorful tents are
prepared for a large number of fishermen seeking for delicious "wakasagi",or lake smelt. Ice fishing is very easy to
enjoy even for beginners and they provide you everything for fishing including rods, baits,chairs, tents, ice holes.
Inside the tents are much warmer than you might expect as wood stoves are placed. Besides, you can have your
catches deep fried after fishing at a hut on the shore. Please give it a try a Hokkaido's most popular fishing!
【Regulations】
May-Nov. / Landlocked sockeye salmon, rainbow trout, white-spotted char, Sakhalin taimen, crucian carp,
common carp
Jul-Nov. / Landlocked masu salmon
Jan-Mar / Lake smelt, goby
*Landlocked masu salmon caught between 5/1st-6/30th must be released immediately.

Ice Land Akan