Marimo Club, a women's group in Lake Akan
This is an introduction to the Marimo Club, a local development group made up of housewives from the Lake Akan hot spring district.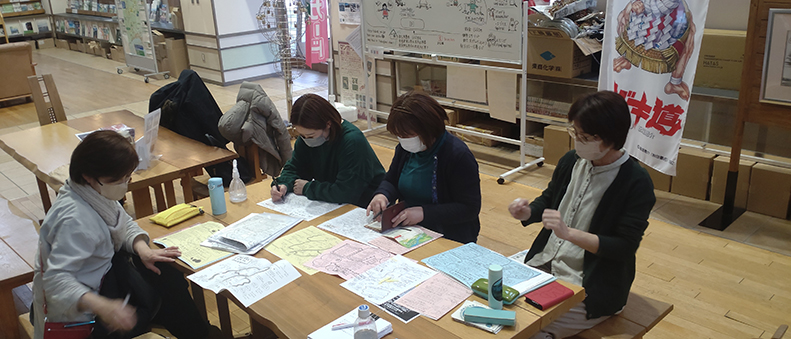 Bringing a female perspective to development of the hot spring district
The marimo balls sold at souvenir shops in the Lake Akan hot spring district are not actually marimo balls grown in Lake Akan, but rather algae harvested from other lakes than Lake Akan that are cultivated and grown, then rolled into balls by hand.
The ones sold as "cultivated marimo balls" were originally harvested from Lake Shirarutoro, cultivated, grown, and collected, then rolled into balls by hand. The reason for creating hand-rolled marimo balls is reputedly to prevent illegal harvesting of marimo balls from Lake Akan.


In 2002, a group was formed by local residents and experts like university professors to improve the satisfaction of tourists and extend their length of stay. When they said, "We don't have enough women to discuss local development," the local housewives, who previously had few opportunities to get out, rose up as one and set to work.
Handmade maps only someone living in Lake Akan could make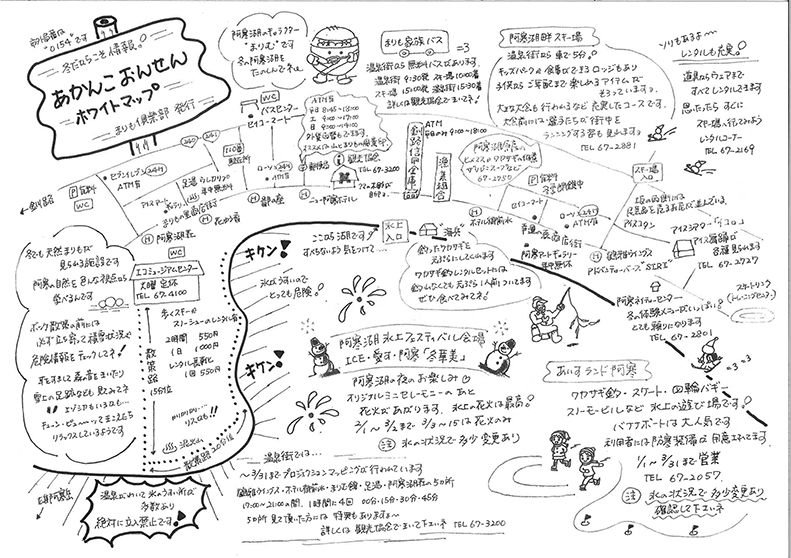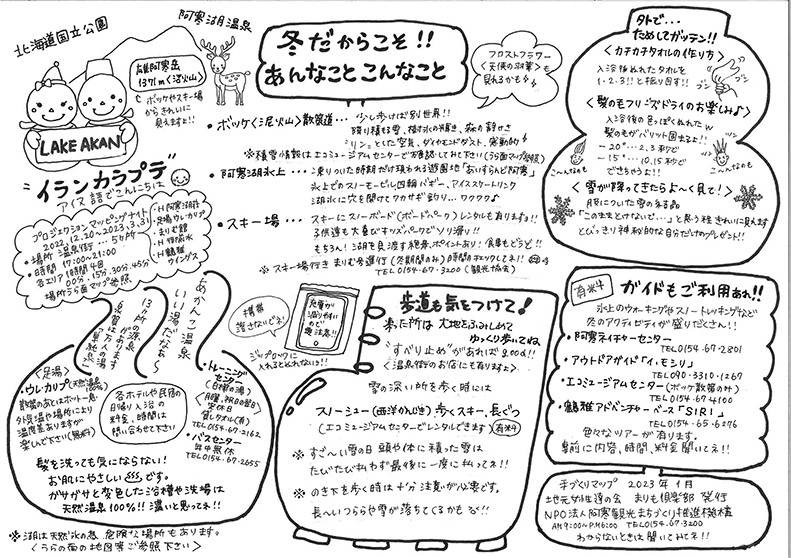 The first job of the Marimo Club, who had started feeling out their way forward, was creating handmade maps, which also served as a study group about the towns where they lived. Through heavy snows, they walked around the hot springs district and the sightseeing spots in the surrounding forest, taking notes on their discoveries and moving sights.
Accompanied by cute illustrations, the maps are all drawn by hand. There are 5 types of maps in all which let you know at a glance the best spots to see in Lake Akan for every season. They offer detailed coverage of how to have fun at the Ice Festival, how marimo balls become round, and the best spots for viewing autumn leaves, and they are distributed by hotels and the tourist association.
Operating through chats over tea
The Marimo Club motto is "to do what we want, what we think is needed, and what we can, within reason, in our free time, while having fun."
When they come up with an idea, they move quickly to put it in practice, thinking, "That seems like fun, let's do it." Recently, young hotel employees have also joined in their activities.

They started from idle chats while snacking on pickled vegetables, and their style of casually exchanging ideas over cups of tea remains unchanged. Through a wide range of activities including handmade maps, research on local specialty dishes, and flower planting campaigns, the cheerful mothers of Lake Akan play the role of glue bonding people together, and they are working to make their town as well-rounded as a marimo ball.