Straight from the Tourist Association Staff!
7 pointers on to squeeze 120% more fun out of the Winter Tancho Crane bus.観光協会スタッフ直伝!
冬のたんちょう号を120%楽しみ尽くす7つのポイント
KushiroAkan Tancho no Sato
2018.1.23
Hello there, everyone!
My name's Sato, and I'm with the Kushiro Tourism and Convention Association. In this article, I'll be introducing the sightseeing bus "Winter Tancho-go," so you can get the very best out of eastern Hokkaido's natural beauty, and the cranes, of course!
*This sightseeing bus route falls within the Shitsugen 55 Pass area. You can also use this pass at Kushiro City Museum and Kushiro City Zoo, which we do not visit during the bus tour, within 5 days without admission fee! Be sure to use this bargain pass when you're in Kushiro!♪
OK then, let's get going!
You can board from the Bus Terminal next to Kushiro Station (in front of Super Hotel).
*You can also get on at Fisherman's Wharf MOO or Kushiro Prince Hotel.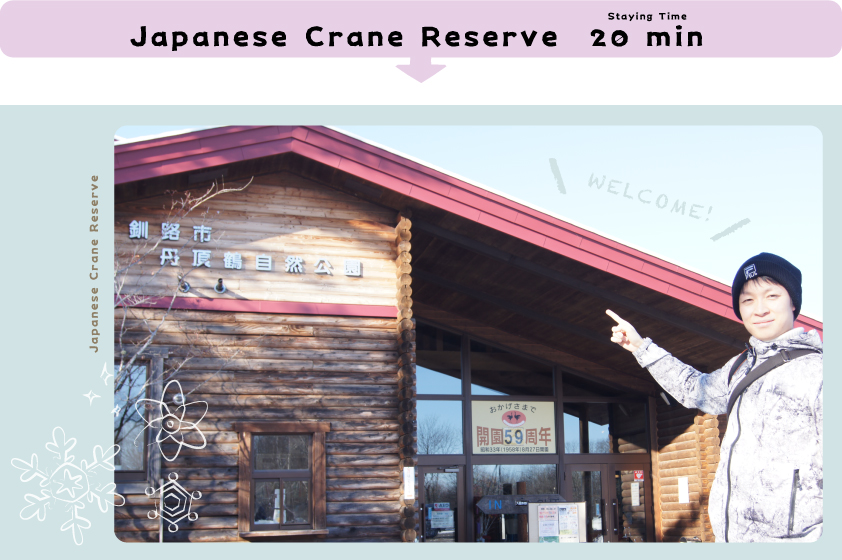 Spend 45 minutes zooming along in the bus, then the first stop is Kushiro Tancho Japanese Crane Reserve!
This is a highly recommended spot where you can see Japanese red crested cranes year-round. In spring, you might even see freshly hatched chicks!
And of course, it's perfect for photos!
Pointer 1: If you spin this round crane, you can get a picture without the fence.
Pointer 2: Some of the cranes are used to people, so they come right up close!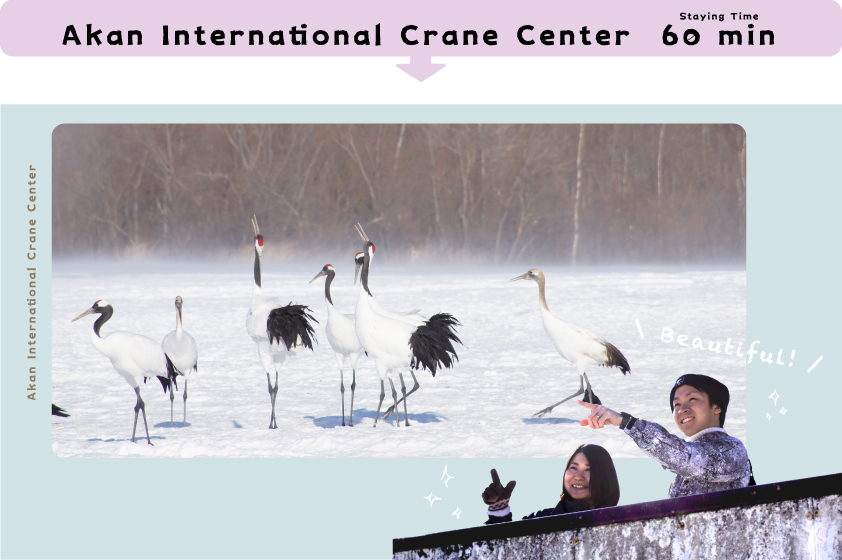 Next, the bus heads toward Akan, a 20 minute ride. It stops at Akan International Crane Center.
Let's head to the observation deck! There are so many cranes! It's hard for them to find food in the winter, so the staff feed them here.
And here's the key point for this spot:
A secret move taught to us by center head Mrs. Kawase!
Pointer 3: If you put your phone's camera lens up to the telescope... Look! It's like using an SLR!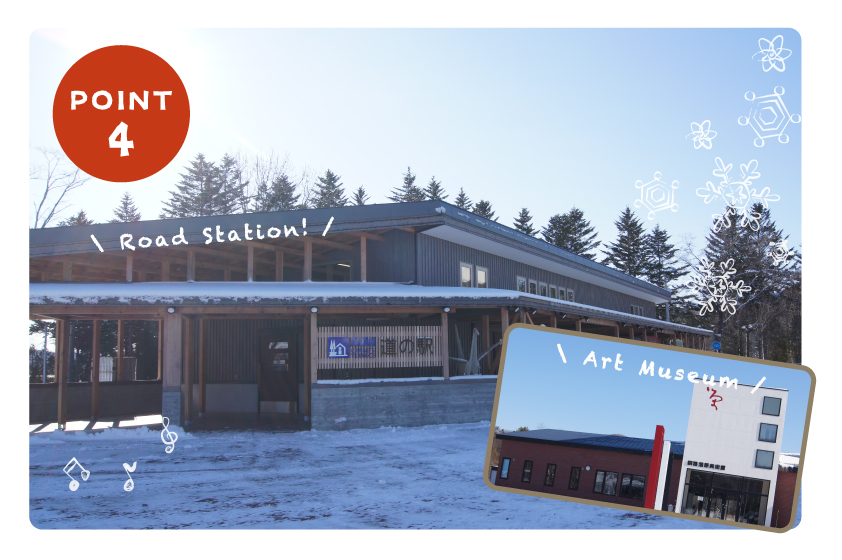 Pointer 4: The stay here is fairly long, so we recommend stopping by the attached Kushiro Shitsugen Art Museum, the Michi-no-Eki Akan Tancho no Sato Crane's Terrace across the road, Akan Marche or Akai Beret.
Michi no Eki (Roadside Station) Akan Tancho no Sato (Crane's Terrace):https://www.akan-eng.com/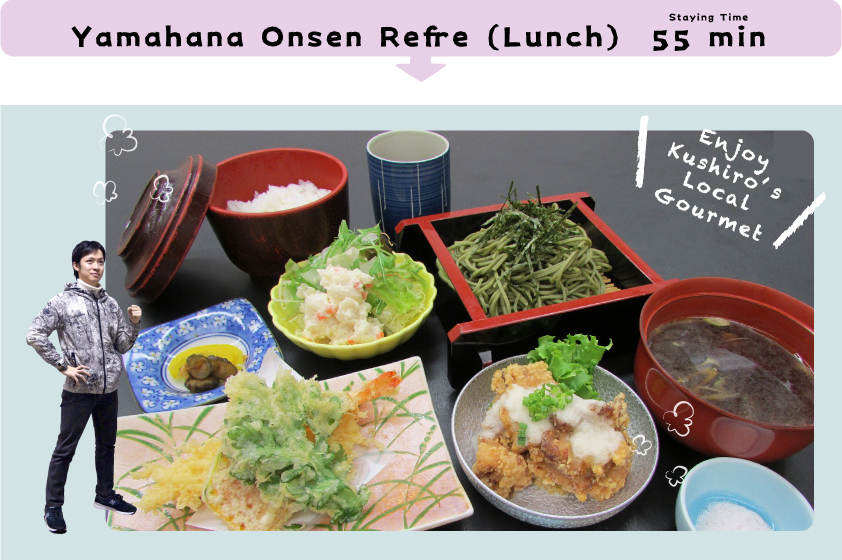 Our next destination is Kushiro City Wetland Viewing Platform.And now it's about time for lunch! We've arrived at Yamahana Onsen Refre.Lunch is this special (Tancho-go-only!) set meal full of delicious Kushiro delicacies like Kushiro zangi chicken and green soba.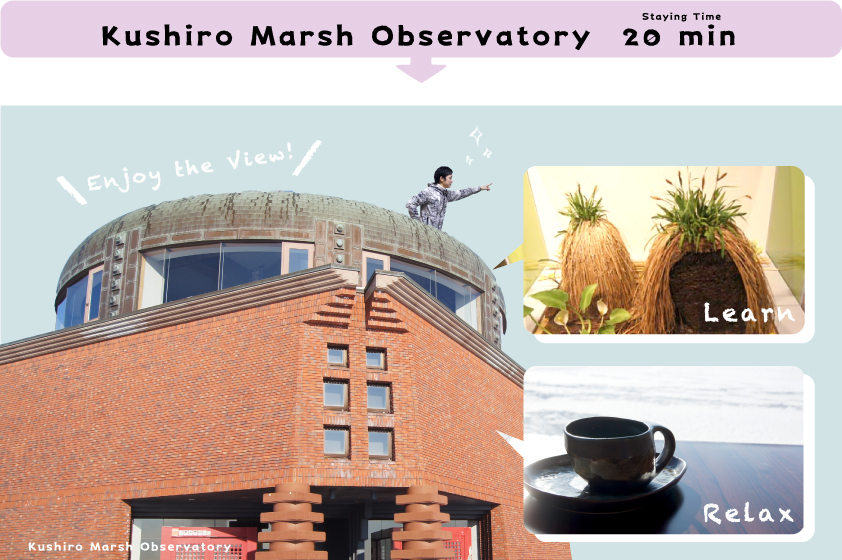 Our next destination is Kushiro City Wetland Viewing Platform.
The 2nd floor has a museum relating to the wetland, and the observation deck on the roof lets you take in the scenery.
There's a cafe corner, too, so it's perfect for a break!♪
Now get yourself a memento of your trip!
Pointer 5: Get a memorial photo in an original observatory frame!
Pointer 6: You can get Kushiro-only snacks in the shop on the 1st floor!
And here is a vital point to check: Catch the Kushiro Shitsugen wetland from the car window!
Pointer 7: The Kottaro marsh inside Kushiro shitsugen Naitonal Park remains completely untouched. The contrast between the lazily flowing Kushiro River and the sunlight dancing on the reeds and sedges is simply gorgeous. You might even run into some Yezo Sika deer!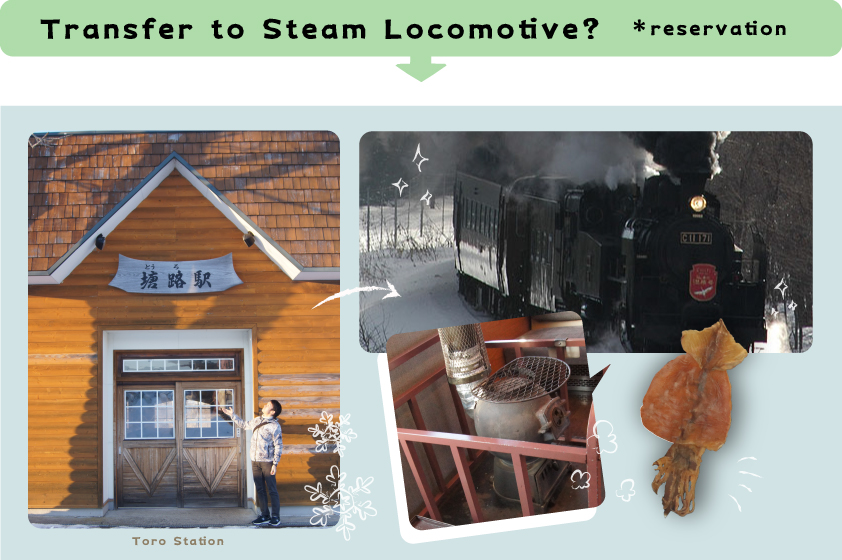 The winter-only SL Fuyu no Shitsugen-go steam locomotive. On days when it's running, you can board the steam locomotive from Toro Station. This is the only spot in Hokkaido to ride one! It's so nice to sit in the car around a pot-bellied stove roasting shredded squid and watching the scenery from the windows!♪
*Those wishing to transfer to the steam train should make reservations in advance with JR.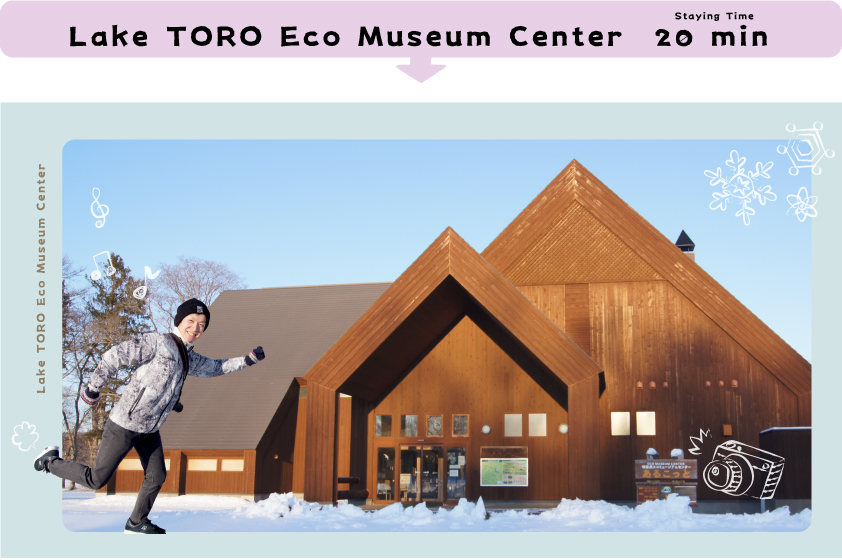 The last stop for the bus is the Lake Toro Eco Museum Center, also known as "Arukotto".
They've got more exhibits about the Kushiro Shitsugen. And Toro Lake in winter is also a high point! Be sure to get lots of pics of the beautiful snowy scenery!♪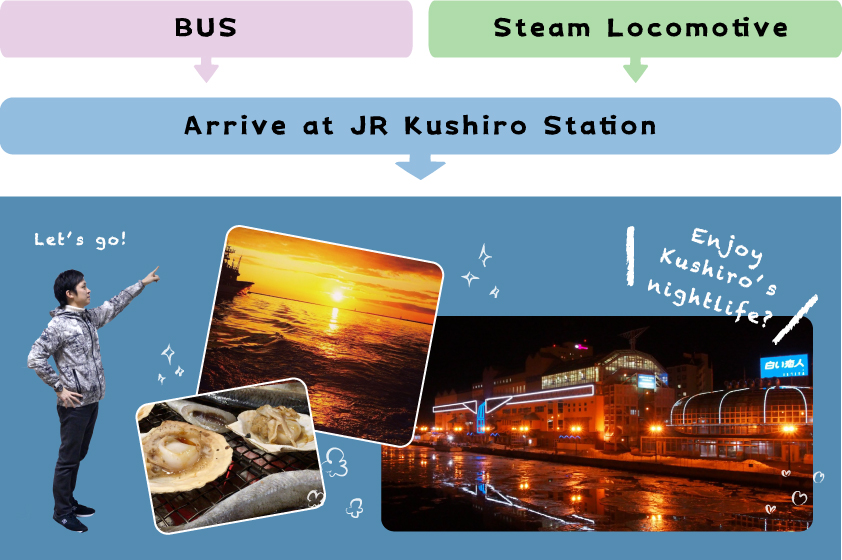 And that's it for our sightseeing bus trip! But of course, Kushiro at night has plenty more to offer.
After the tour you can see the sunset in Kushiro, known as one of the world's 3 most beautiful, or head to the evening district Suehiro for a taste of local Kushiro delights.
So what did you think of this Fuyu no Tancho-go Trip? I hope you'll come and enjoy Kushiro in winter!

【Related Stories】
Check out this selection of eight spots to watch the stunning sunset in Kushiro, considered to be among the top three locations in the world for sunsets:http://en.kushiro-lakeakan.com/overview/3747/
Kushiro is home to a number of unique local foods. Check out these must-try local dishes:http://en.kushiro-lakeakan.com/eat_souvenir/4290/
The best place to view the tancho cranes, steward of the wetlands:http://en.kushiro-lakeakan.com/overview/3760/

【Route Covered】


【Places Visited】
Kushiro Japanese Crane Reserve:http://kushiro-tancho.jp/
Akan International Crane Center Grus:https://aiccgrus.wixsite.com/aiccgrus/english-page
Michi no Eki (Roadside Station) Akan Tancho no Sato (Crane's Terrace):https://www.akan-eng.com/
Yamahana Onsen Refre:http://en.kushiro-lakeakan.com/stay/4439/
Kushiro Marsh Observatory:http://en.kushiro-lakeakan.com/things_to_do/3770/

【For Reservations:】
Japan Bus Online:https://japanbusonline.com/en/CourseDetail/index/10100300002
Related Keywords