What's New
November 24th(Sat.)&25th(Sun.) 2018 Indegenous Ainu Cultural Exchange Event『KAMUY-MOSIR,AINU-MOSIR』

November 24th(Sat.)&25th(Sun.) 2018 Indegenous Ainu Cultural Exchange Event『KAMUY-MOSIR,AINU-MOSIR』
・Ainu are indegenous people of Japan who lived mainly in Hokkaido.
・Ainu developed their original culture including dances, musics, handicrafts, and thoughts to live in harmony with nature.
・The purpose of this event is showing Ainu culture to everyone and having cultural exchanges.
「KAMUY-MOSIR-AINU-MOSIR」
Date: November 24th & 25th 2018
Venue: Tottori Dorm (in the Tottri Park No.10)
Adress: 7-4-1 Tottri-kita, Kushiro-City,Hokkaido,Japan
Schedule: 24th(Sat.) 10:00-17:00 /  25th(Sun.) 10:00-15:00
Admission: Free (*some goods and attractions might be charged)
We provide various attractions including musical & dance performances and art exhibitions as well as food stands. The venue is accessible to everyone and provide English guidance services.
We are looking forward to seeing you at the venue.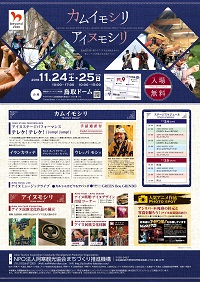 Akan Tourism Association Community Development Promotion Oganization
E-mail
staff@lake-akan.com
  TEL +81-154-67-3200   FAX  +81-154-67-3024
Facebook 
https://www.facebook.com/kamuymosirainumosir/
Latest Article
Category
Monthly Archive